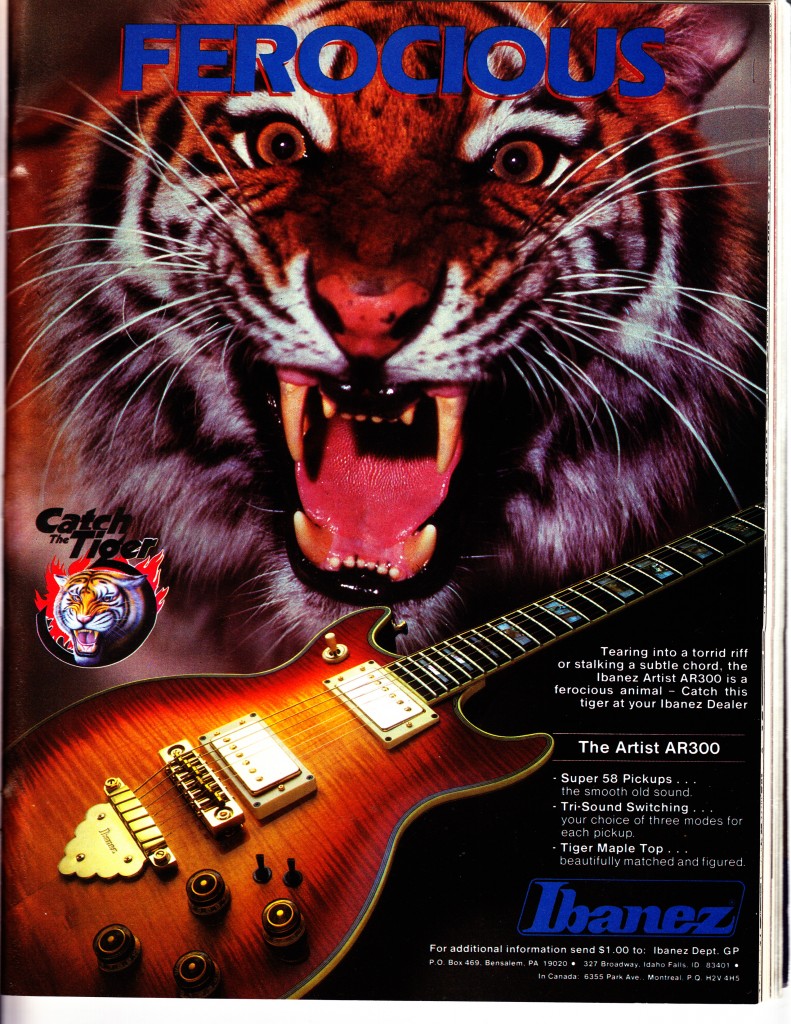 When I was learning to play the guitar in suburban CT in the late 80s, the name Ibanez was pretty much synonymous with 'guitar.'  Every shop sold Ibanez guitars, and most kids owned them.  My brother and I had imported Fenders, which were considered old-fashioned at the time (this was pre-Cobain).  I still have (and use) my $380 1990 '52 Telecaster reissue.  I can't imagine that I would have kept a 1990 Ibanez RG for all this time.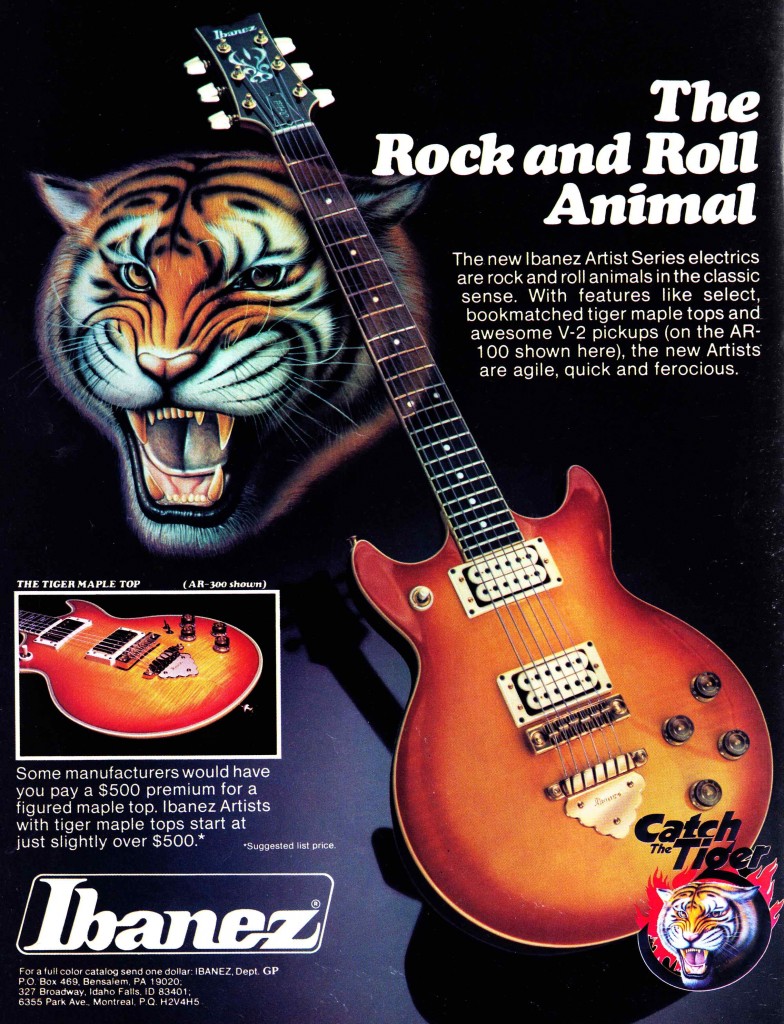 Big Cats (Tigers)/Tiger-stripped maple tops, git it?   Before Ibanez introduced the RG and S lines, they had a large run of transitional models that bridged the gap between the 'Lawsuit' -era Gibson copies that first allowed them to gain traction in the US market and the 'super-strat-shredder' things that sold so vigorously in the late 80s.   The AR series was their Les Paul-type instrument, and I believe that some variety of AR has remained in production since 1979 or so.  Just a few years ago I picked up a 1980 Ibanez AR50 (very similar to the object depicted above, minus the flame maple top, inlay, and binding) for …$80?  at the flea market.  Fantastic guitar.  Within a few weeks I bought a circa 1975 Ibanez Rickenbacker-copy bass…  for $65.  Yesterday, at the same flea market, I found another circa '75 Ibanez Rick bass, poured out of the back of a box truck along with old shirts, patio furniture, and chipped crockery.  "Five Hundred Dollars," said the truck-owner.  "It's a lawsuit model."  The cat is clearly out of the bag.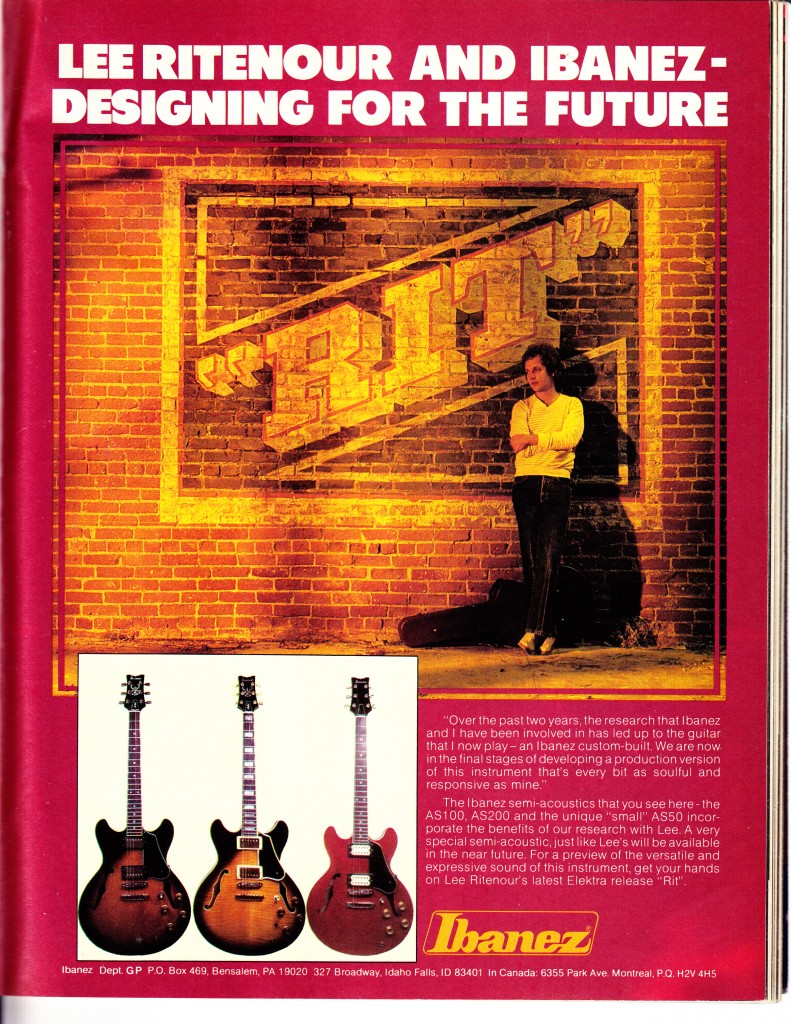 The Ibanez AS series, their 335-type instrument.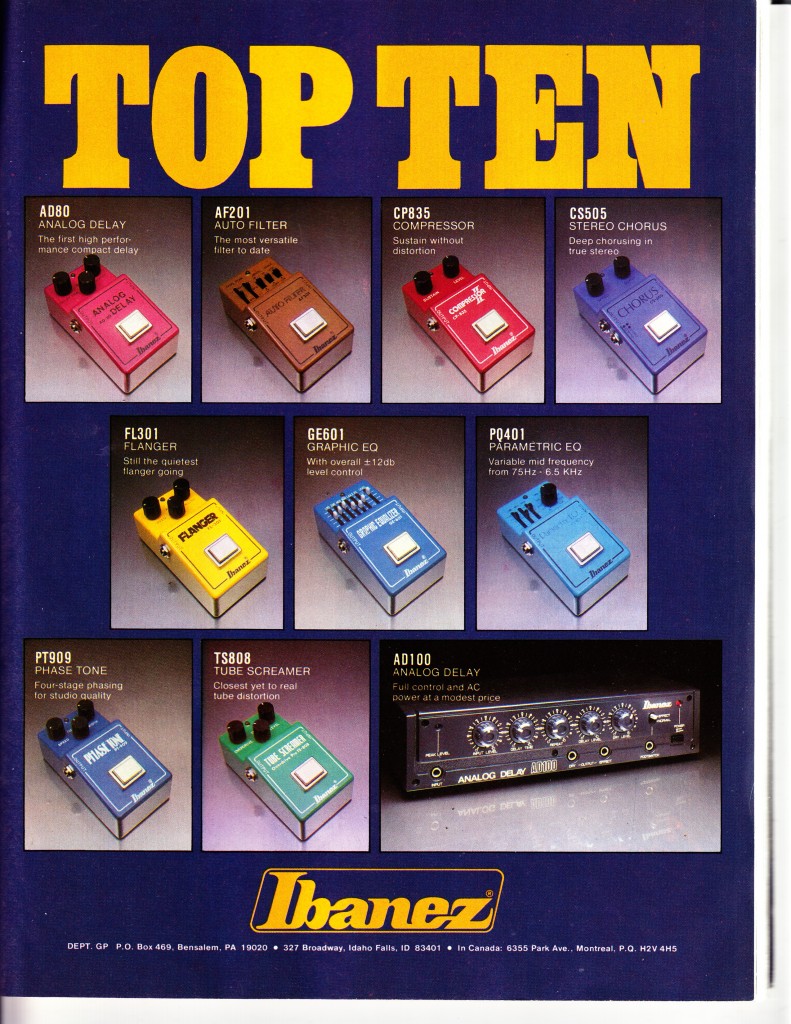 Ibanez guitar effects circa 1981.  Still highly-coveted units.  We have an AD80 analog delay at Gold Coast Recorders and it gets used on a great number of productions.  It's unusual in that it uses two 9V batteries rather than one.  I've never done a side-by-side comparison with our similar-era Boss DM-2 delay pedal but maybe soon…
More early Ibanez coverage to come soon to PS dot com…  If yr into this sort of thing, I highly recommend this book: "Ibanez The Untold Story"... which seems to be out of print…  but well worth seeking out.
Check out some previous early Ibanez Guitar coverage on PS dot com: