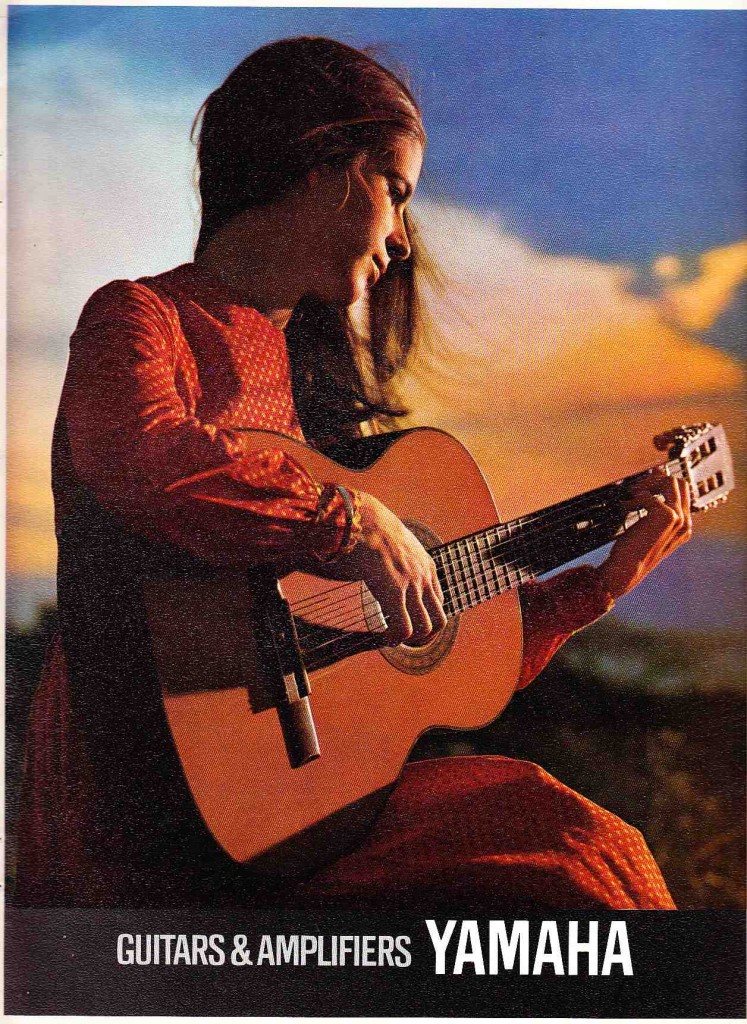 Download the entire 12-page 1968 Yamaha Guitar/Amp Catalog (USA region):
DOWNLOAD: Yamaha_guitars_amps_1968_catalog
Models covered in this publication: Model 150, 120, 100, 80, and 60 Classical guitars.  Model FG-110, FG-150, FG-180, FG-230 steel-string acoustic guitars.  Model SA-50, SA-30, SA-70, SA-20, and AE-11 electric hollowbody guitars; and the TA-60 and TA-30 guitar amplifiers.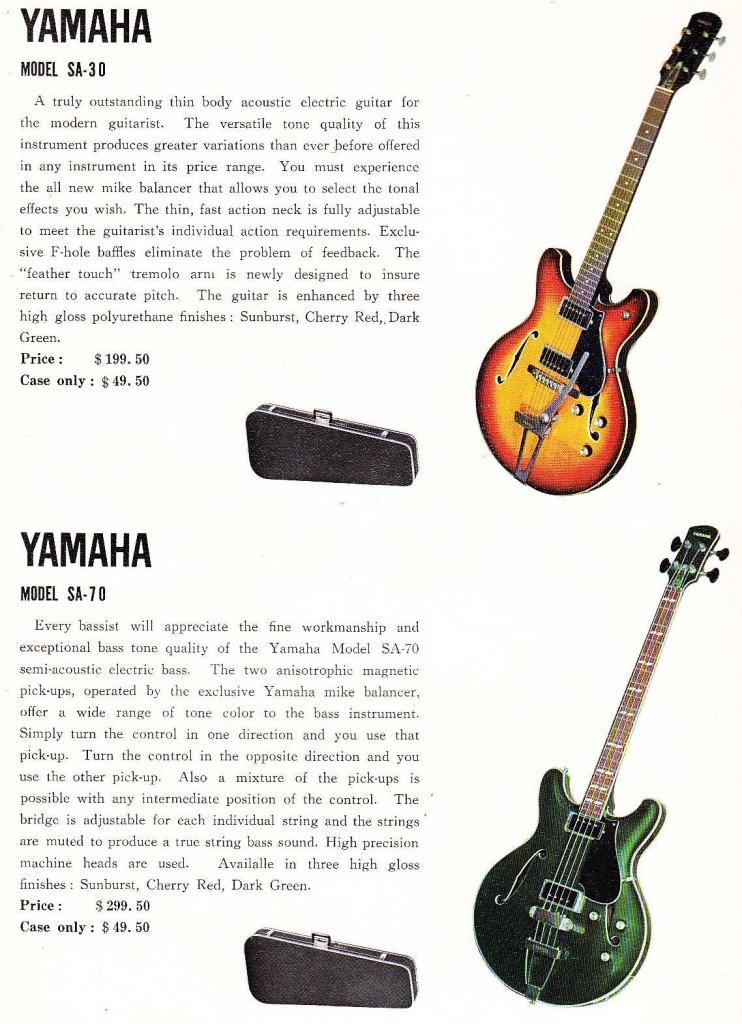 I have owned and used several of these instruments.  The electrics are really very cool, but keep in mind that most examples will need a neck reset and/or plane in order to play like a new guitar.  Dig that dark green finish on the bass though.  Killer.
It has often been noted that Jimmy Page toured with Yamaha acoustics in the early 70's, which may be why Japanese Made 'red-label' Yamaha acoustics are currently in-demand.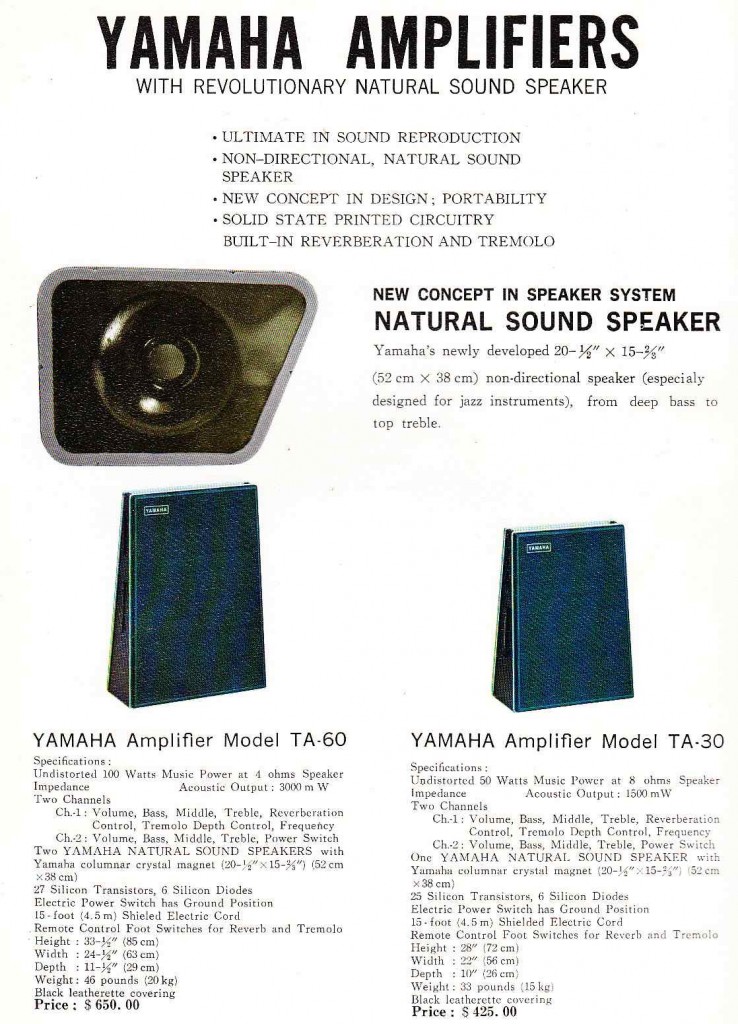 Yamaha has used the term 'natural sound' for many decades to market a wide range of different audio gimmicks.  The only constant seems to be that 'natural sound' represents Yamaha's willingness to try odd new things in a constant technological struggle to achieve more accurate sound-reproduction.  This early iteration of 'natural sound' seems to consist of these odd trapezoidal 'happy-meal' foam speakers.  We had one of these amps in our band back in the 90's and it was heavy as a bastard and very dull-sounding.

Not sure if this was Yamaha's own technology or if they licensed it from another firm.  In any event, these odd speakers made their way into an obscure Fender combo amp in 1969, the Bantam Bass.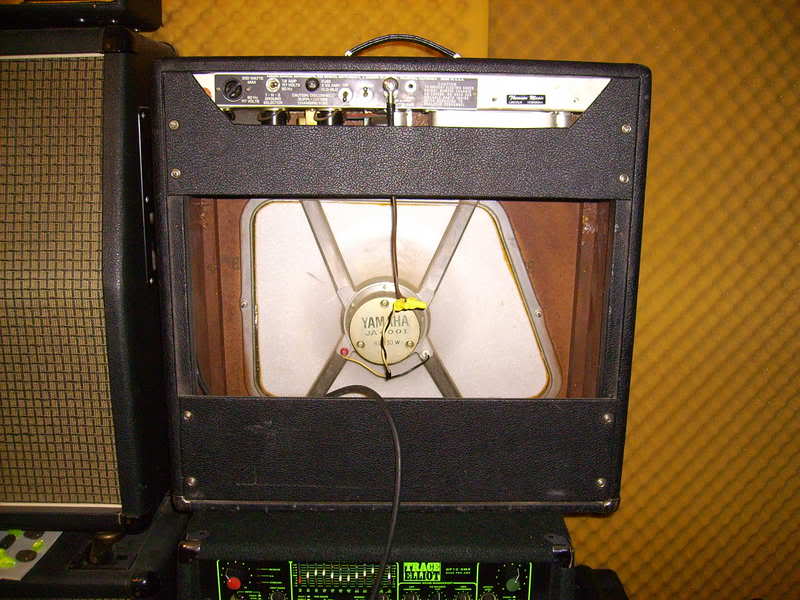 (web source)
The Bantam Bass is essentially a Bassman 10 with one large foam speaker in place of four 10″ drivers.  It was a short-lived product.