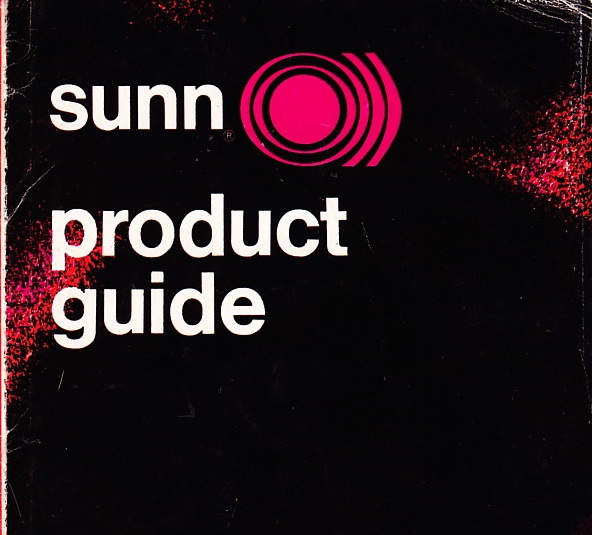 Download the ten-panel SUNN amplifiers 1970 catalog:
DOWNLOAD: Sunn_Amps_1970_Catalog
Models covered, with specs and photos, include: SUNN Dymos, Solarus, Sonaro, Sentura 1, Sonic 1-40, Sceptre, Sorado, Sentura II, Solos, 200s, 1000s, 1200s, and 2000s instrument amps; plus Sunn Concert Sound System and Coliseum Sound System.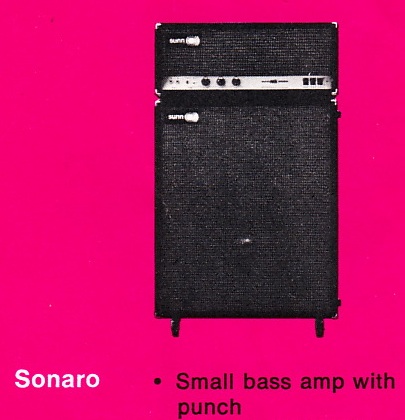 I've been using a SUNN Sonaro as our 'house' studio bass amp for several years.  E actually found this for me, deadstock, on eBay about 10 years ago.  Since then I have re-tubed and recapped it entirely, and it is really a fantastic amplifier.  Very simple, but always sounds great.  The 'hi boost' and 'low boost' switches enable one to get some very modern sounds out of this ancient tube head; much more versatile than, say, a Bassman.  The cabinet is not so great.  insufficient low end for many songs.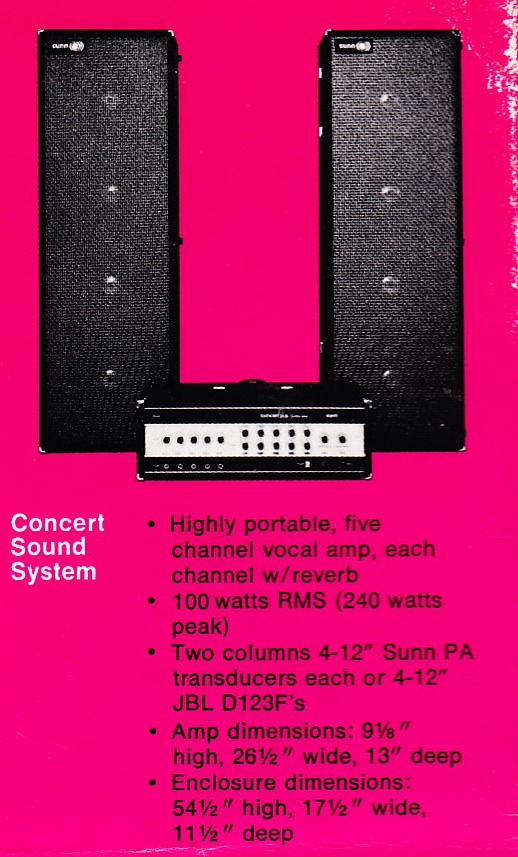 Growing up we also had one of these 'Concert' PA heads.  We used it briefly in our teen-age garage band.  For some reason, it regularly shocked the lead singer. Even if he was not touching anything else.  It basically kept him in a constant state of terror.  sorry J.  It was all we could afford at the time.  The CONCERT is a solid-state amp and it is not recommended.
SUNN amps have an interesting story.  From Wikipedia (abridged by PS.com):
"In early 1963, The Kingsmen, a band based in the U.S. state of Oregon, became known for the song "Louie, Louie". After their hit single, The Kingsmen soon embarked on a fifty-state national tour. Because the band was used to playing small hops and school dances, many of the members found themselves ill-equipped with the amplifiers that they were currently using. Bassist Norm Sundholm discovered that his bass amp was not nearly powerful enough to play larger concert halls. Sundholm enlisted the help of his brother Conrad to help solve his problem. By 1964, the Sundholm brothers had designed a high powered concert bass amplifier. … Thus, the Sunn Musical Equipment Company was founded."
What Wiki does not tell you is that Conrad's 'solution' was basically to add a pre-amp stage to a Dynaco Mark 3 home hi-fi amp and stick it in a big speaker cabinet.   This basic design would provide the essential platform for all the classic SUNN amp heads.  The crucial point of all of this is that all the classic SUNNs (including the humble Sonaro) use the very powerful 6550 output tubes coupled to an ultra linear output transformer.  To my knowledge, no other major instrument amp manufacturer was using ultralinear transformers in 1970.  Not even the Ampeg SVTs of the era use ultralinear operation.   This fact gives SUNN amps a real advantage in accurate low-end (bass) sound reproduction.
I've also owned a Sunn SCEPTRE, and other than the crappy-sounding sold-state reverb circuit, it was pretty great as well.  It is still easy to get a great deal (around $400) for many of these classic SUNN heads, and I highly recommend them, especially since you can now easily get the proper high-voltage filter caps that these amps need.   This makes it very very easy to re-cap the amps for proper operation.
*************
********
***
To download the original schematic for the SUNN 1200S, click here: 1200s_schem