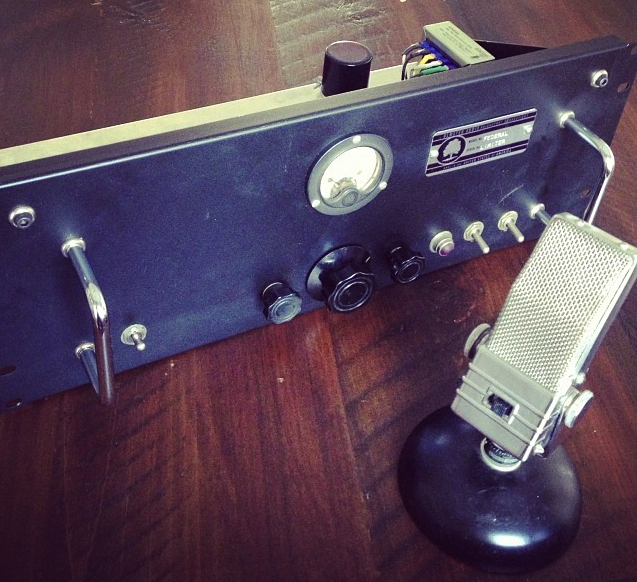 Note: I performed extensive frequency, level, and actual studio tests on the 864 clone today, and several interesting details were revealed.  Text has been edited to reflect that. 
From 1954 through at least 1963, the Federal Television Corporation built an audio limiter called the AM 864/u for the US Air Force and US Army.  The 864 is a simple, rugged device that accepts 600 ohm balanced or unbalanced line-level signal, offers a single front-panel input-attenuator control, and compresses the output level at a 10-to-1 ratio once the threshold point is reached.  The output is also 600-ohm balanced or unbalanced, and it offers a maximum 36db of gain.  The rear panel of the unit displayed the threshold and ratio controls, although these are confusingly referred to as (respectively) CURRENT and THRESHOLD in the manual and schematic.  Attack and release times are fixed, and the manual indicates them at .05″ and 2″ respectively.

As you can see in the diagram above, the 864 was intended to be used as what we call a 'broadcast limiter' – the final step in the signal chain before the broadcast transmitter.
Download the original 1963 manual for the AM864 (apologies to whomever did the epic work of scanning this 55pp document; I have long forgotten where I got this file from)
DOWNLOAD: Federal-AM-864-U-Manual copy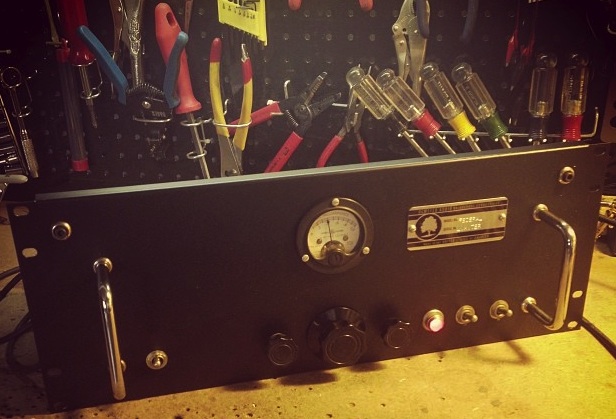 After having scratch-built an Altec 436 compressor years ago, I wanted to try building an 864.  The circuits are very similar, although the 864 uses the older 1940s-era octal tubes and uses a feedback circuit from the plates of the input tubes (rather than the output tubes, as in the 436) for its compression control signal.  More importantly, though, the 436 remains a bit of an oddball underdog in the vintage-compressor market while the 864 enjoys a very strong reputation.  Anyhow, like the 436, the parts cost to build one of these things is negligible, so I figured what the hell.
This is going to be a very long + detailed +technical article, so I'm going to ask y'all to please click the link below if you dare to READ-ON,,,,
Continue reading Federal AM-864 Limiter Clone: Build Notes: update 1 →