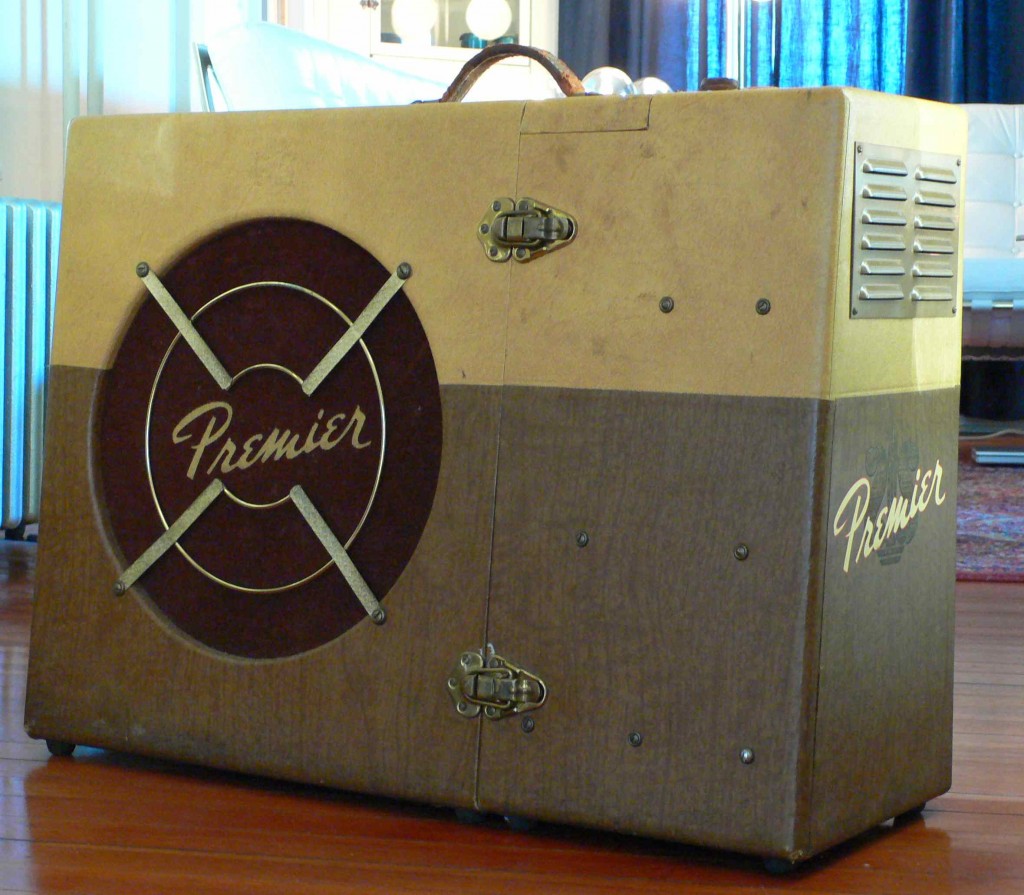 After probably 14 hours of work and $200 of parts, my Premier 88 is working 100%.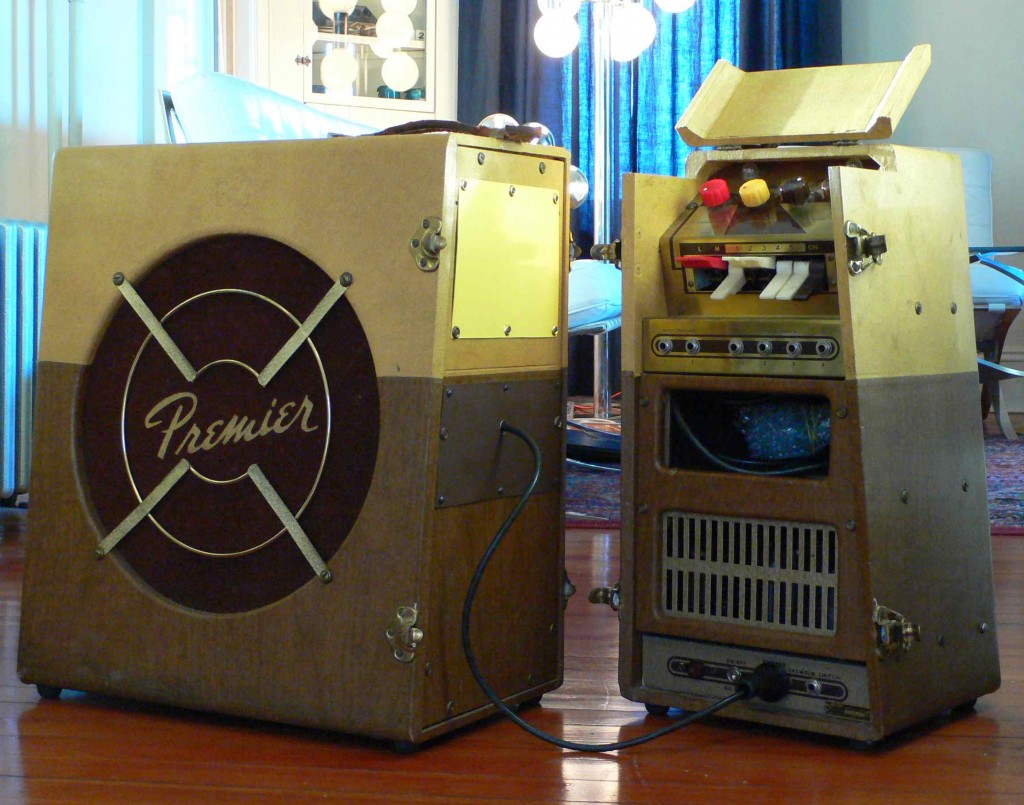 As I described in an earlier post, the Premier 88 is a rare and highly unusual instrument amplifier from the 1950s.  It consists of an amplifier unit and a speaker unit; but rather than the amplifier unit sitting atop the speaker, like most every other 2-piece amp, the 88's amplifier sits beside the speaker cabinet.  The two sections clasp together with luggage latches.  It moves as one (very large and heavy) piece.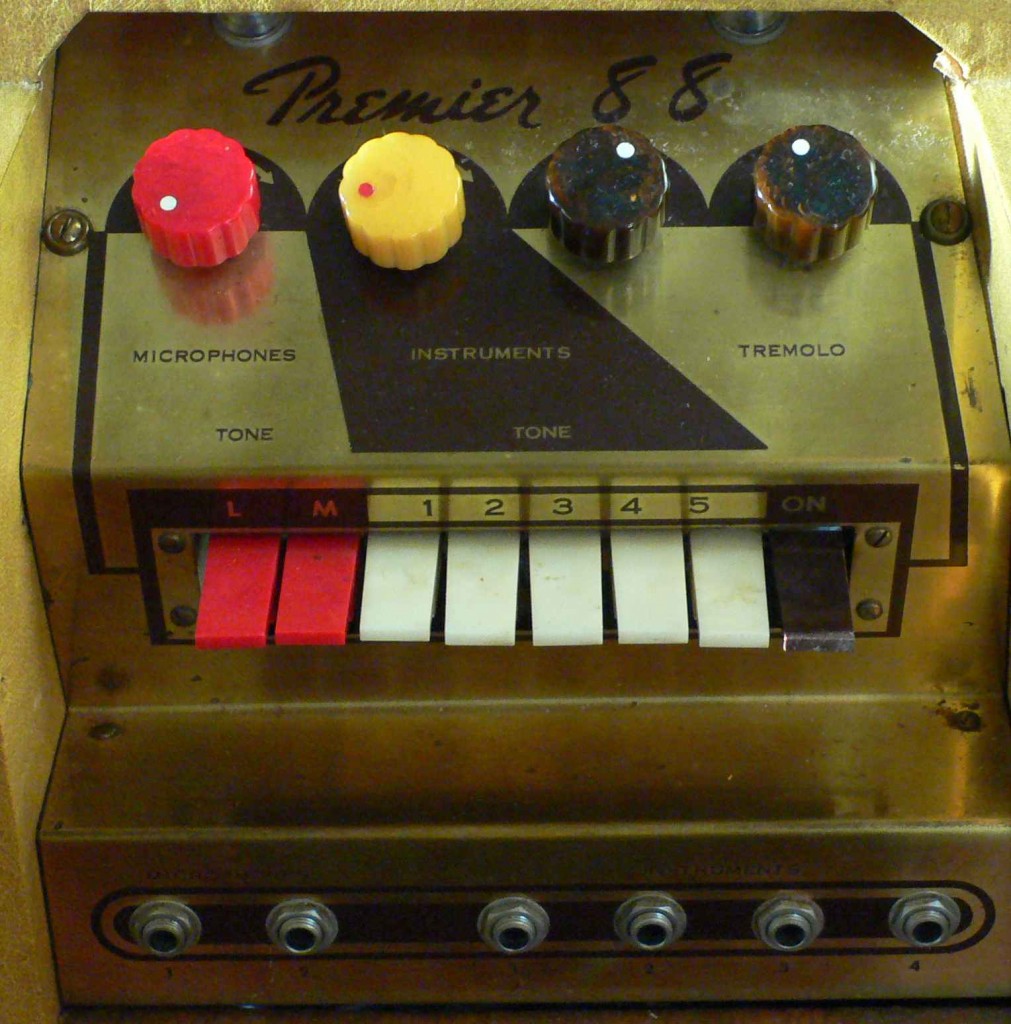 This odd side-by-side form-factor is not the only unique feature of the 88.  Check out the control panel.  Rather than conventional bass/middle/treble knobs, the 'instrument' channel of the 88 has 5 organ-stop-type levers that can be switched in or out.  Each lever is a bandpass filter.  IE., if you depress all 5 levers, you get the full tonal spectrum.  If you depress none of the levers, you get silence.   The 'Microphone' channel also has a pair of unusual tone control switches; they seem to be hi-cut filters.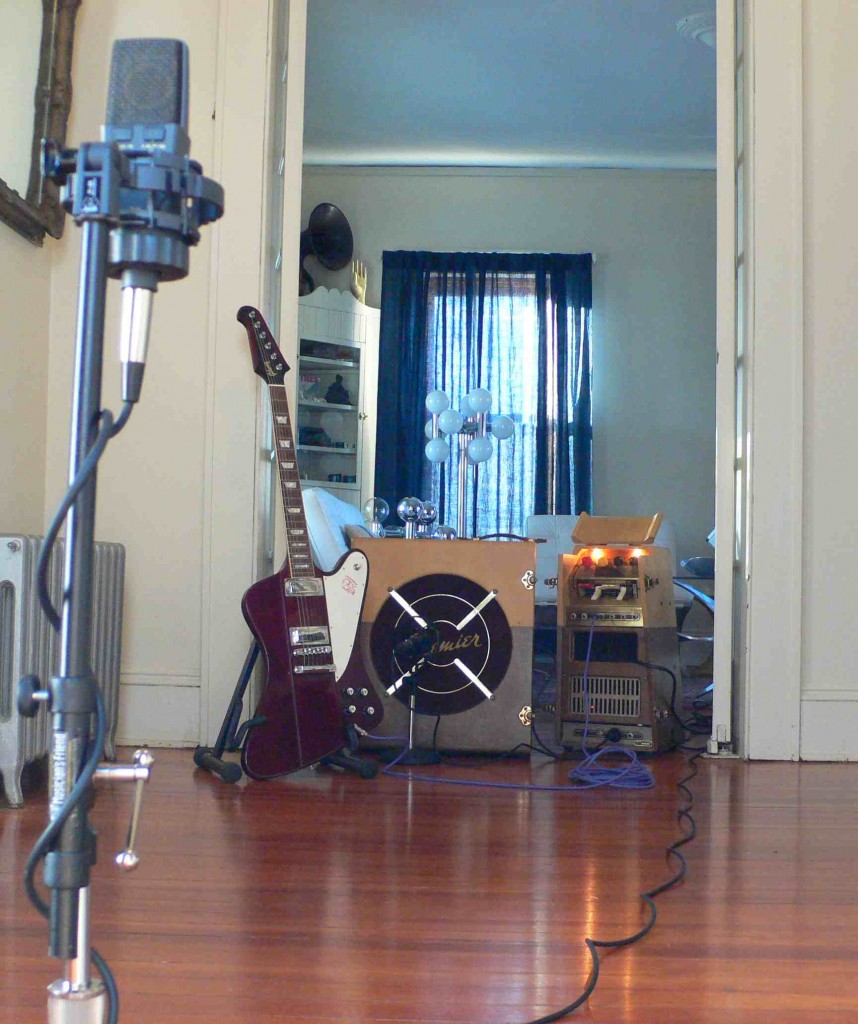 Here are some examples of the sounds that the 88 produces.  Right channel is an SM-57 close to the speaker; Left channel is a 414 in omni approx 10 feet away.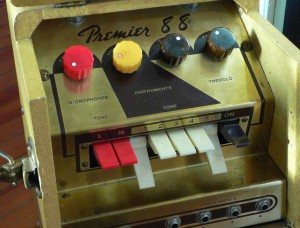 LISTEN:  Low_and_High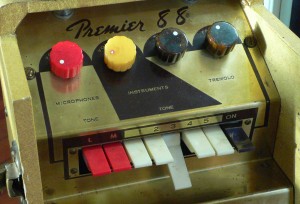 Listen: Mid_only
The trem is super weird and extreme. Here are a couple of examples: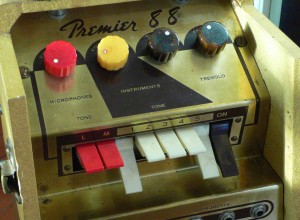 Listen: Trem_low_settings
Listen: Trem_HighSpeed
***********
*******
*****
**
In all honesty, this amp was a pain in the ass to service.  When I first brought it into the shop, it did turn on and pass signal; the tremolo sort-of worked, as did all of the tone controls.  It just sounded terrible and it had no output.  The longer it ran, though, more and more parts seemed to fail, starting with B+ resistors and then moving on to the 50 year-old tubes.  So eventually I ended up replacing most of the components in the amplifier.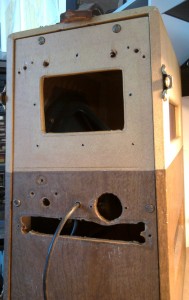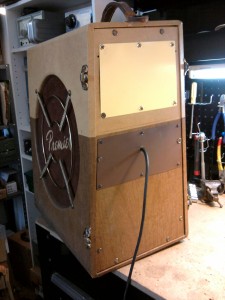 When I first opened it up, I saw tha someone had added a Pilotuner mono FM receiver to the speaker cabinet.  I removed the tuner, and I then had to fabricate cover-plates for where the tuner face and tuner knobs had been.  I used aluminum plate stock.  That was the first piece of work.  And then:
*replaced the 15″ Jensen Alnico speaker with a new Jensen 15″ ceramic (there was a weird rattle in original speaker)
*replaced all electrolytic capacitors in amp (approx. 20)
*replaced all B+ and plate-mixing resistors in upper preamp chassis (approx 15)
*replaced all caps in tremolo circuit (some needed to be replaced twice in order to get the right response)
*clean all tube sockets and replace 3x 12ax7 in pre-amp.
*add grounded AC line to power amp chassis
*replaced 6L6 and 5U4 and 12au7 tubes in power amp chassis
Good lord.  Was it worth is?  Who knows.  Once you start a restoration like this, you kinda just need to push on through until it's done done done.  This is possibly the only working example of this amp in the world, so I felt like it deserved a chance.
The repair was difficult owing to 2 conditions:
*There is no schematic available for this particular iteration of the Premier 88, and the pre-amp is extremely complex owing to the bandpass filter arrangement.
*The amplifier is split into 2 sections: The top half is the pre-amp and trem circuit, and the bottom half is the phase inverter, power amp, and power supply.  These two sections are joined by two cables: a shielded RCA line (audio signal) as well as an octal snake that carries B+, ground, heater lines, and tremolo defeat control.  Owing to the extremely short length of these two cables and the manner in which they pass through the tight trapezoidal enclosure,  the preamp cannot be operated unless the unit is fully assembled.  So… the preamp circuit cannot be operated while its circuit is accessible.
Now that all is said and done, it is clear that I would have benefited from making an octal extender cable so that the preamp circuit could be accessible while active.  Hindsight is of course 20/20.
A few things other repair tips that this repair has illustrated:
*If you are missing a schematic:  don't assume that the plate resistors for 12A_7s are 100k ohm.  The 88 had 270k ohm plate resistors.  Generally speaking, when i get an old, noisy amp, I just replace all the 100k resistors, assuming that these are the plate resistors.  Bad carbon-comp plate resistors are often the source of weird intermittent noise in guitar amps.  But not in this case!  Premier used 270k ohm.
*Alnico speakers definitely sound better than ceramics for old guitar amps.  I always suspected this, and now I am convinced.  Wish I had sprung for the extra $100 for the Alnico Jensen.
*Don't assume that working tubes can't be causing weird intermittent problems.  I am generally pretty trusting of working preamp and rectifier tubes, and  I am often quick to assume that B+ resistors are bad, when i fact, it COULD also be the tube…