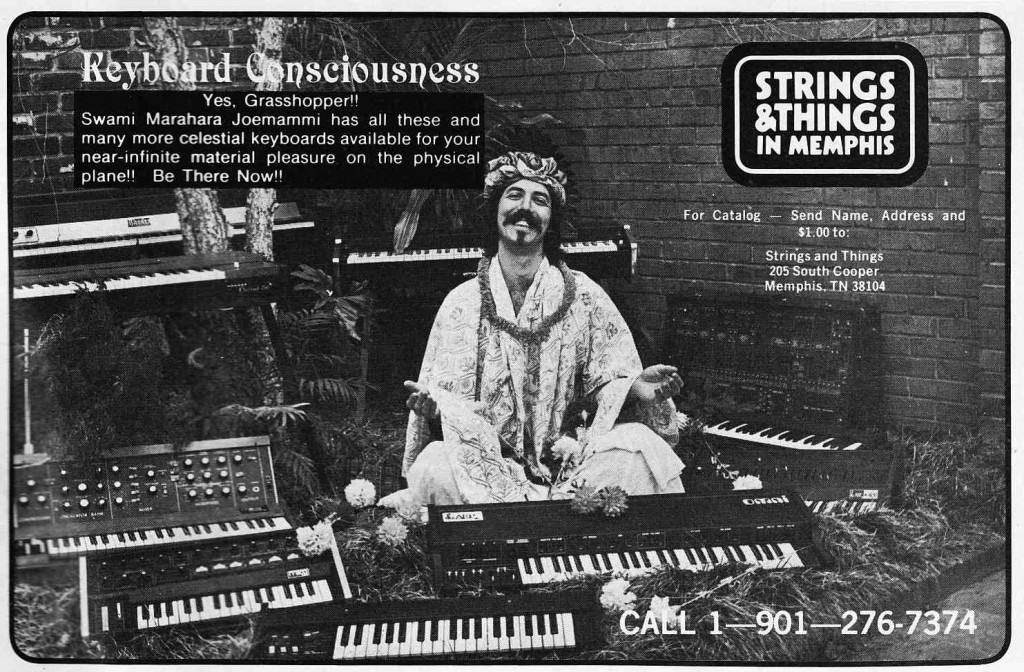 Strings & Things Memphis advert for keyboards circa 1977.
Been looking through some mid-70s issues of "Contemporary Keyboard" (h.f. "CK") magazine.  CK later became simply "Keyboard," which is still in publication; it's part of the GUITAR PLAYER family of publications.  NEways…   1976/7 was an interesting time in the development of keyboard instruments.  Affordable polyphonic (IE., you can play more than one note at a time) synthesizers were still a few years away, and realistic-sounding electronic pianos were still about a decade away.  So what you had was a very mixed bag of Electronic Pianos and 'String Synthesizers,' which are both basically hyped-up electric organs; some still-useful electro-acoustic instruments; and a pretty wide range of pretty experimental synthesizers, many from small manufacturers that didn't stay around very long.  In about 6 years this would all be blown away by advanced Japanese synths with built-in programming, patch memory, and all with polyphony;  the Roland/Korg/Yamaha DX7 era; and this too would fall at the hands of the dreaded Korg M1, which ushered in the Rompler era.  Anyone out there using an M1 lately?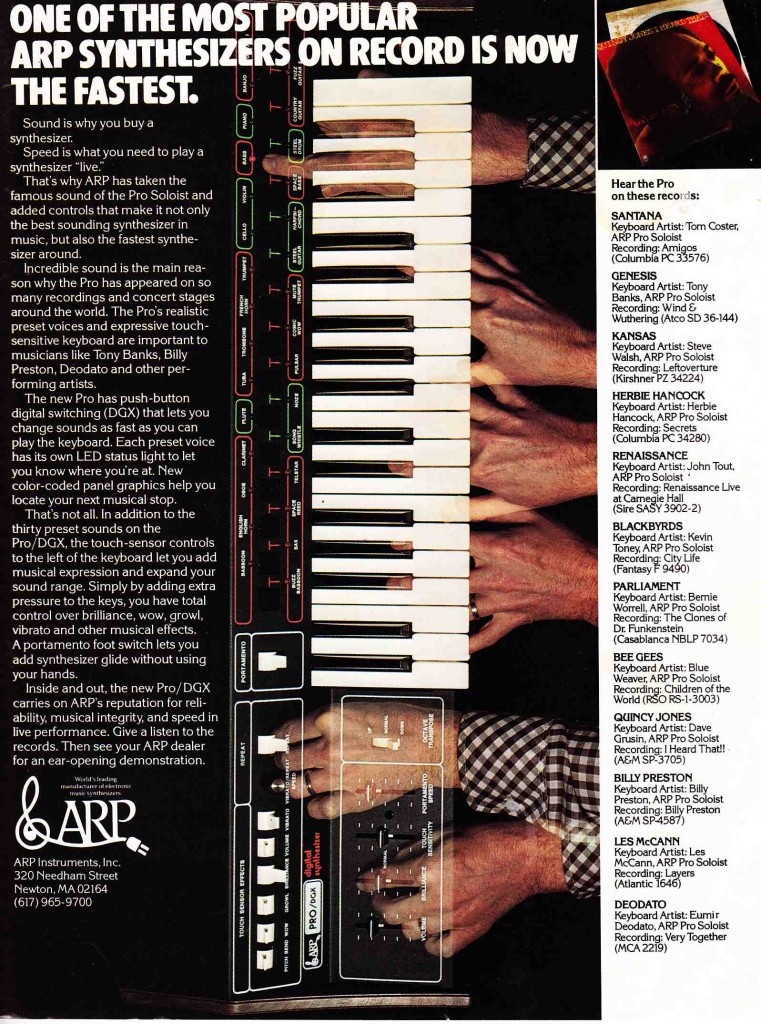 The ARP pro-soloist, typical of the 'preset' synths of the era; preset synths offered interfaces optimized for live-performance rather than endless tweaking in the studio.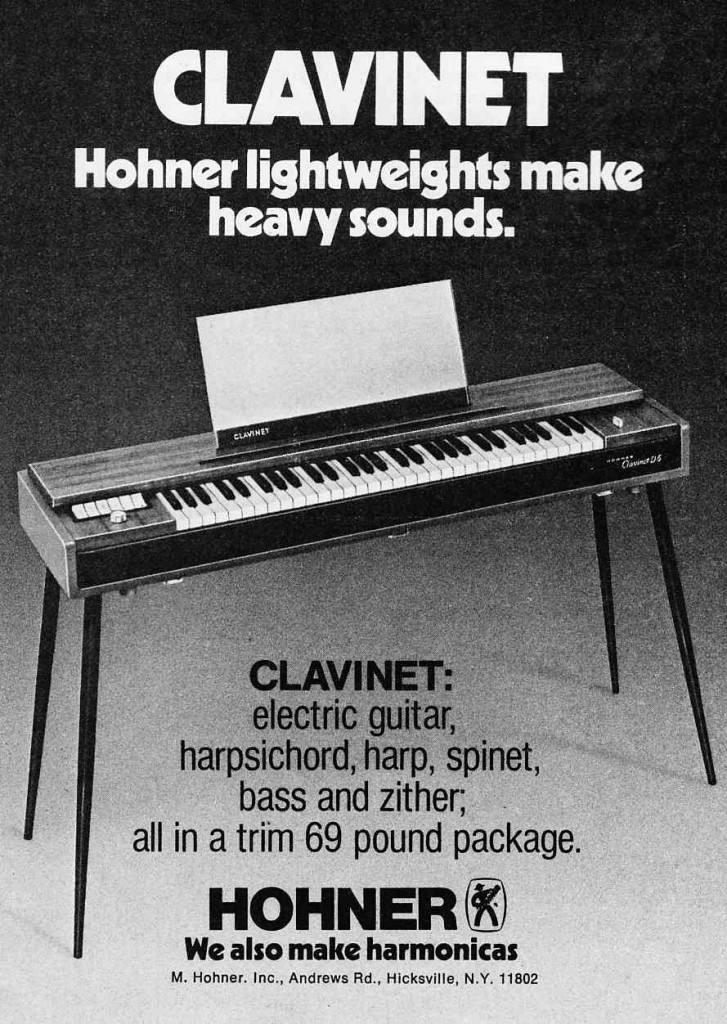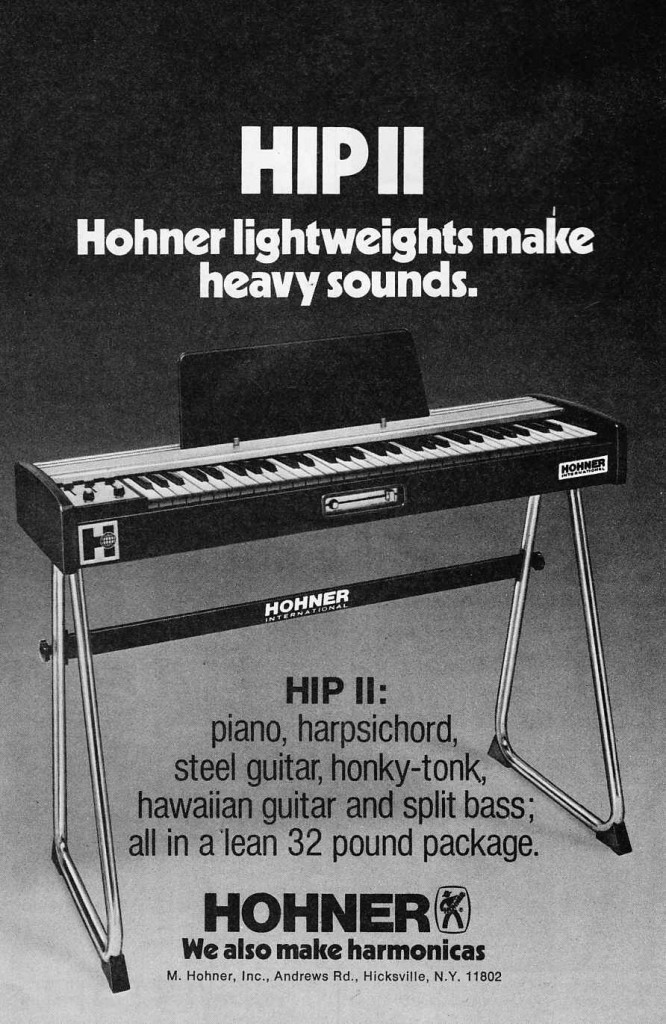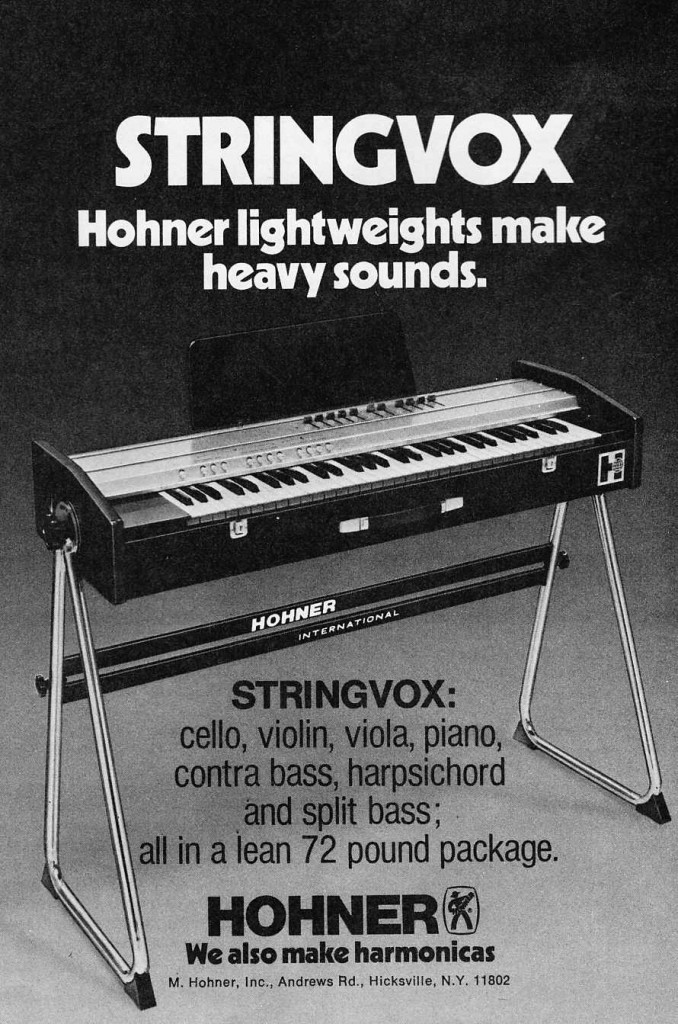 The Hohner Clavinet, HIP II, and Stringvox.  The Clavinet has attained classic status, and many are still in use; not so sure about the HIP II and Stringvox.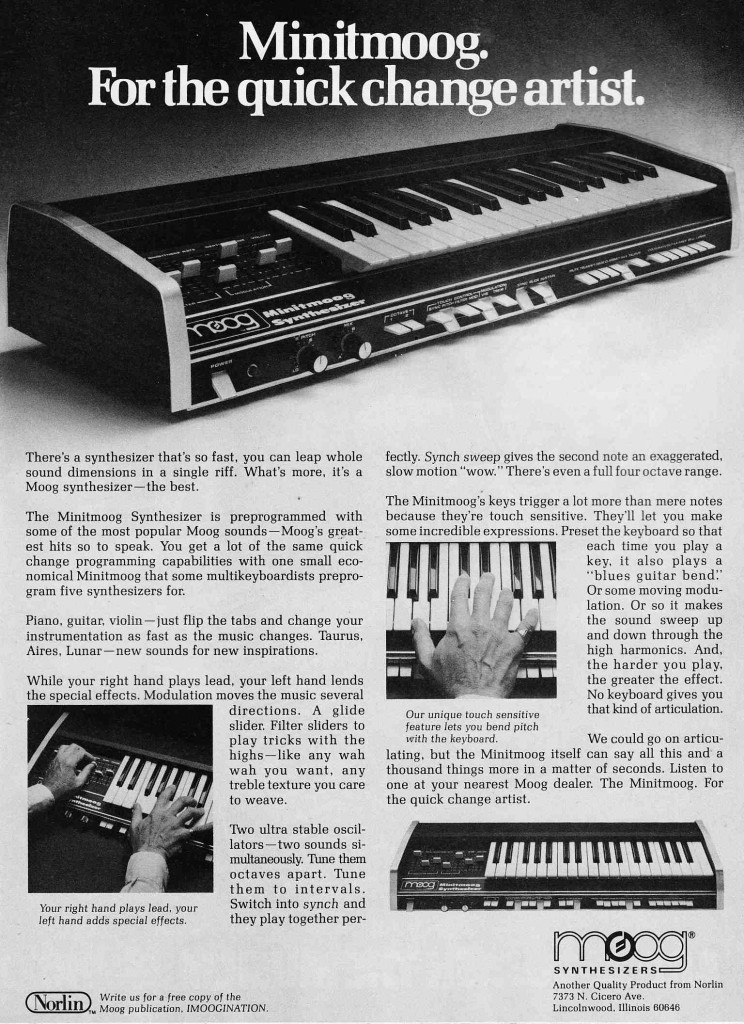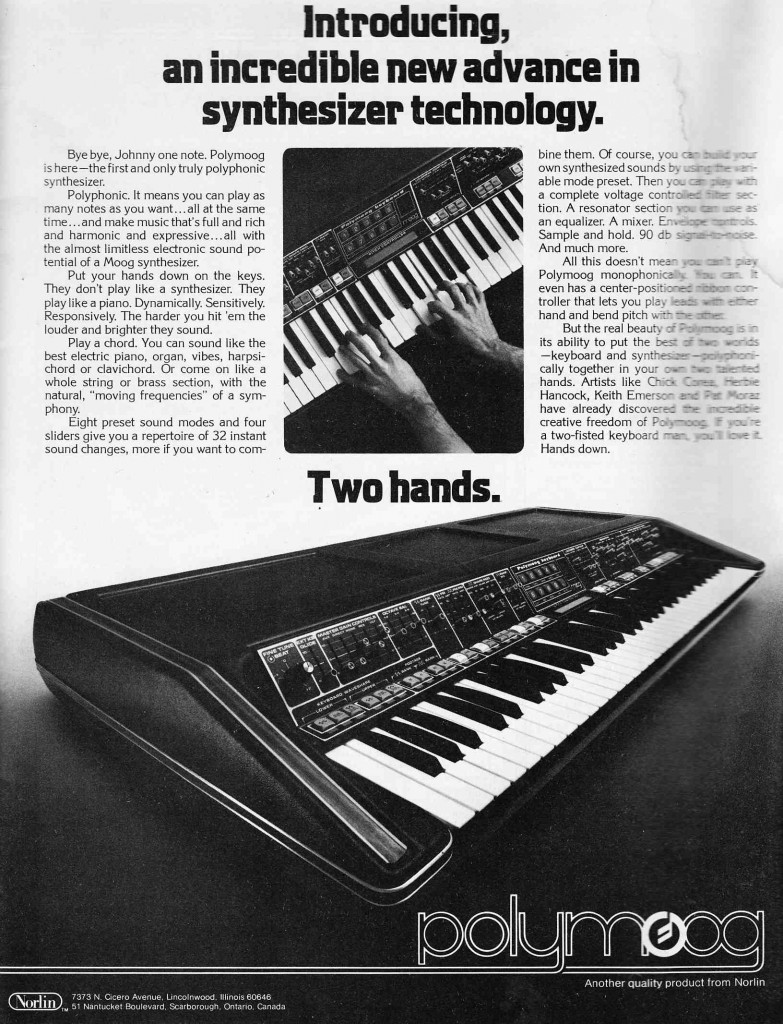 A couple of Moogs from different ends of the spectrum.  The Minitmoog was a 'preset' synth; the Polymoog was not a true synth; it was closer to an organ in terms of its basic operating principle.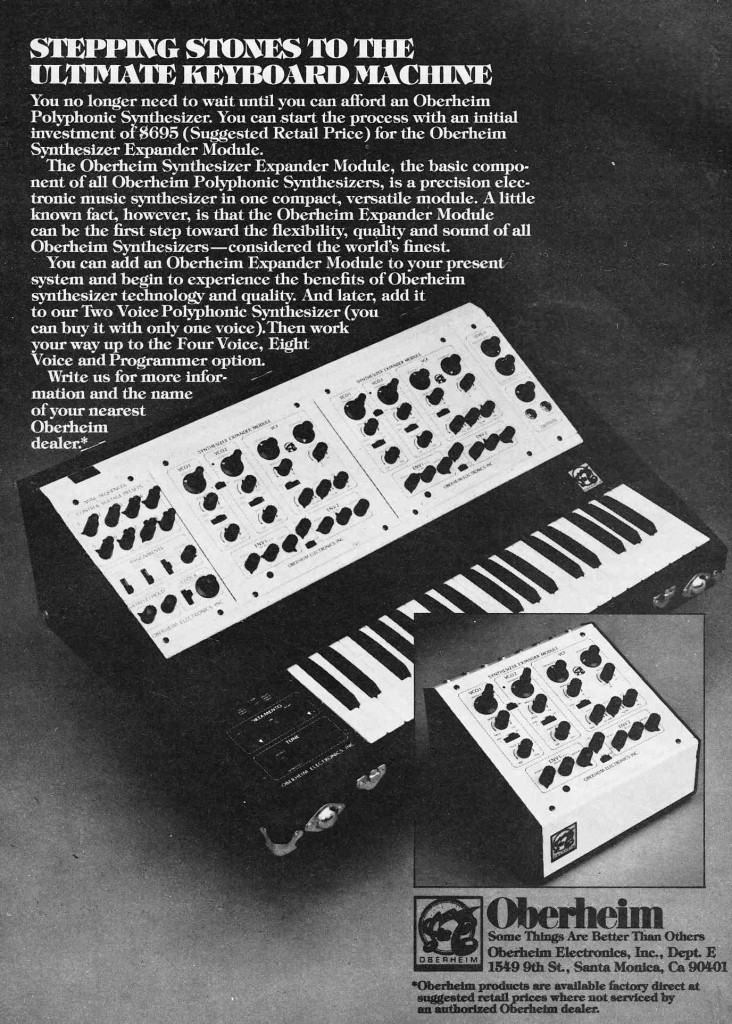 Oberheim Expander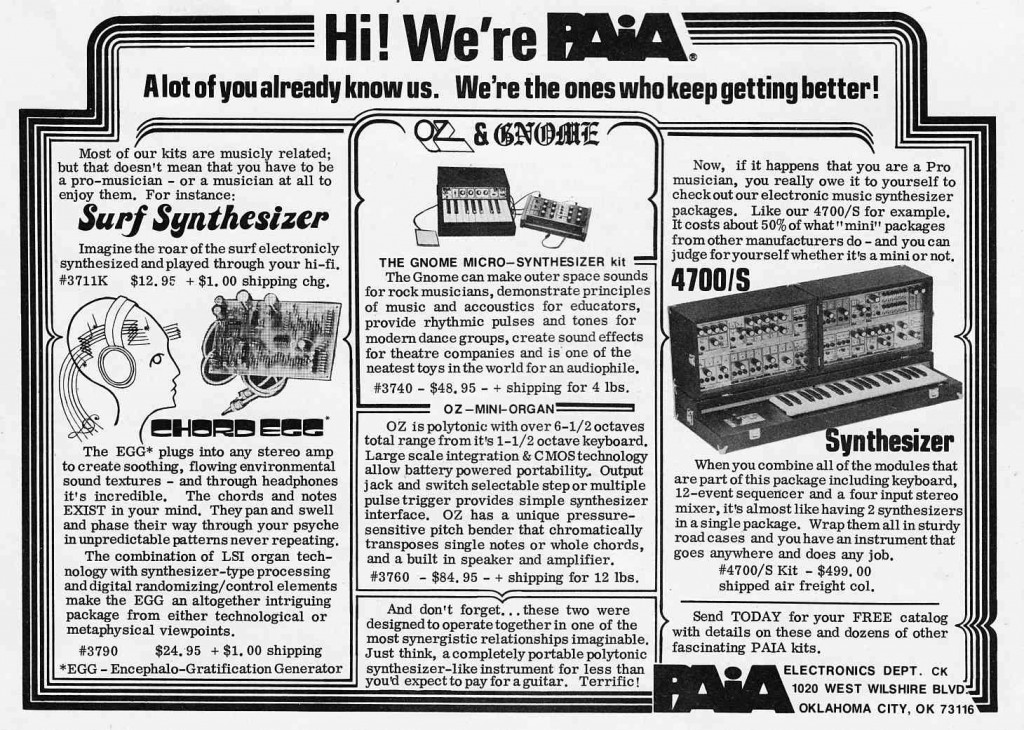 A few Paia synth-kit offerings of the mid 70s: the Surf Synthesizer, The Gnome, and the classic 4700.  See this link for previous PAIA coverage on PS dot com.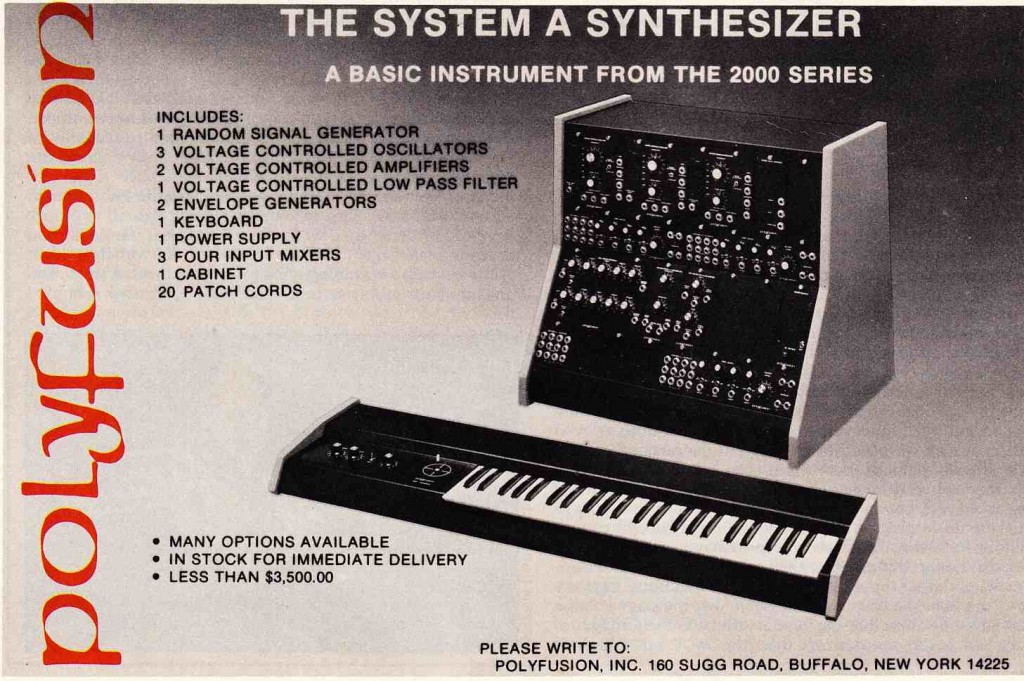 An advert for the Polyfusion System A.  See this link for previous coverage of the Polyfusion line.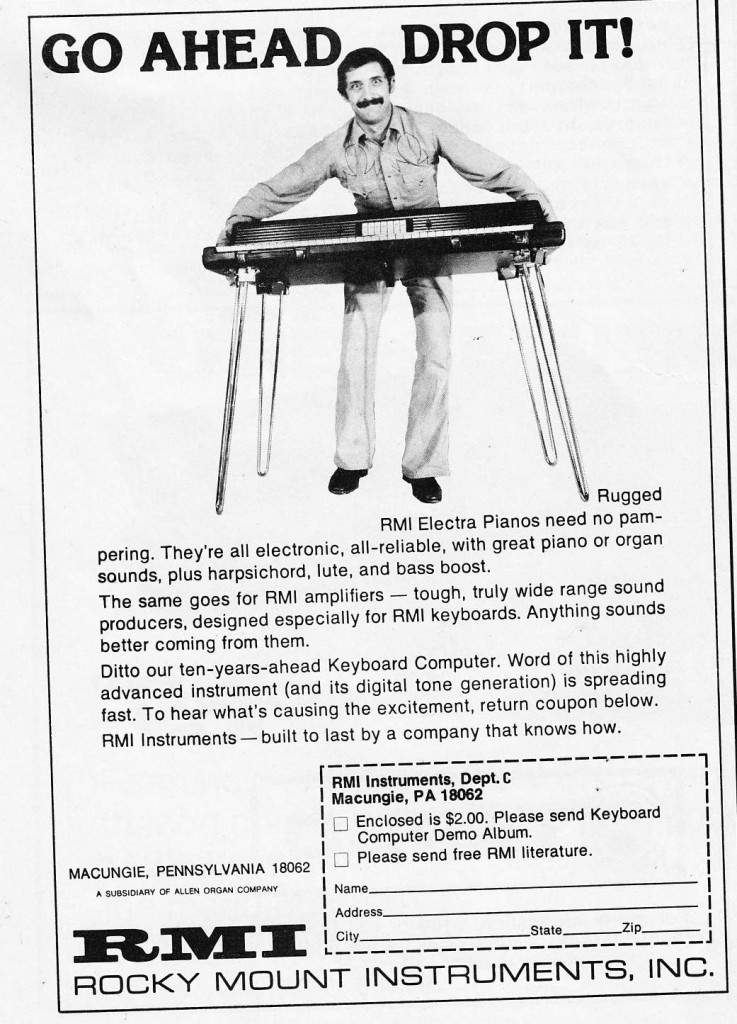 The RMI Electra Piano.  When we were growing up in the late 80s/early 90s, 'electric pianos' like these were about fifty bucks or less; no one wanted them, and that has not changed.  They sound pretty awful but they're still heavy and cumbersome!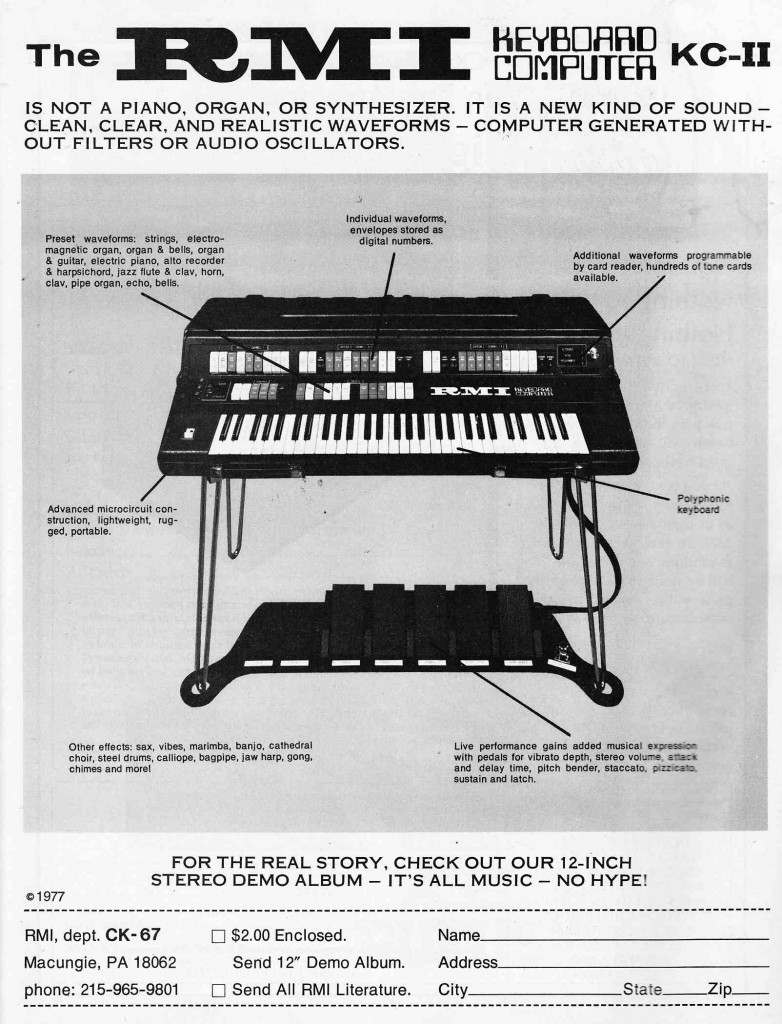 The RMI KC-II Keyboard Computer.  From what I gather, this device is essentially a RAMpler; not too different in basic principle from the epic Synclavier in that the user could input waveforms which would then be manipulated.  This thing apparently cost $4700 which means that… yeah… there ain't too many out there.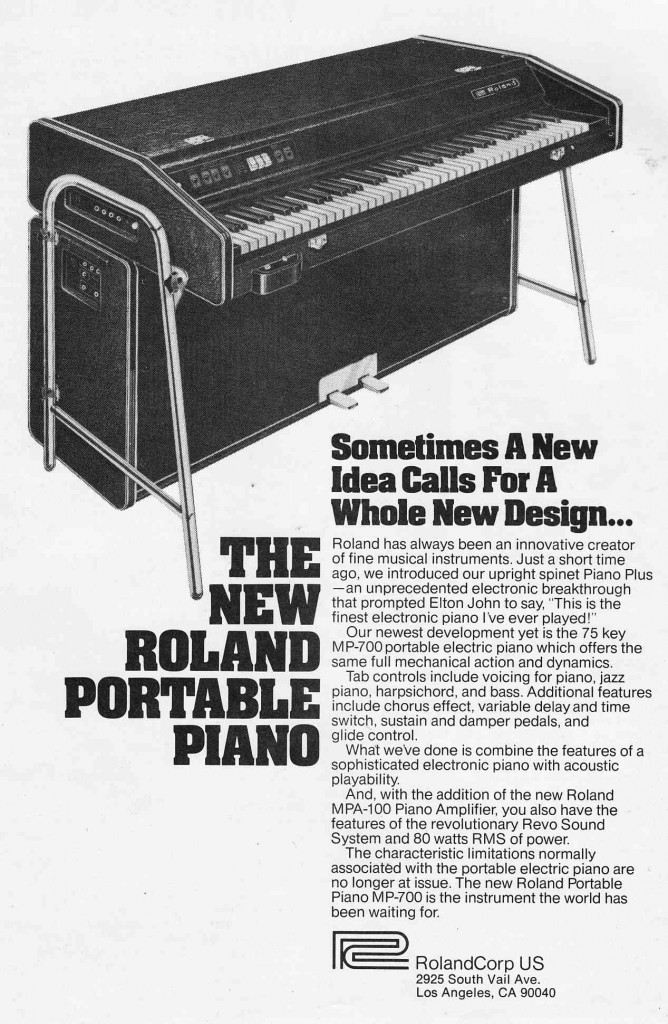 Roland MP-700 electronic piano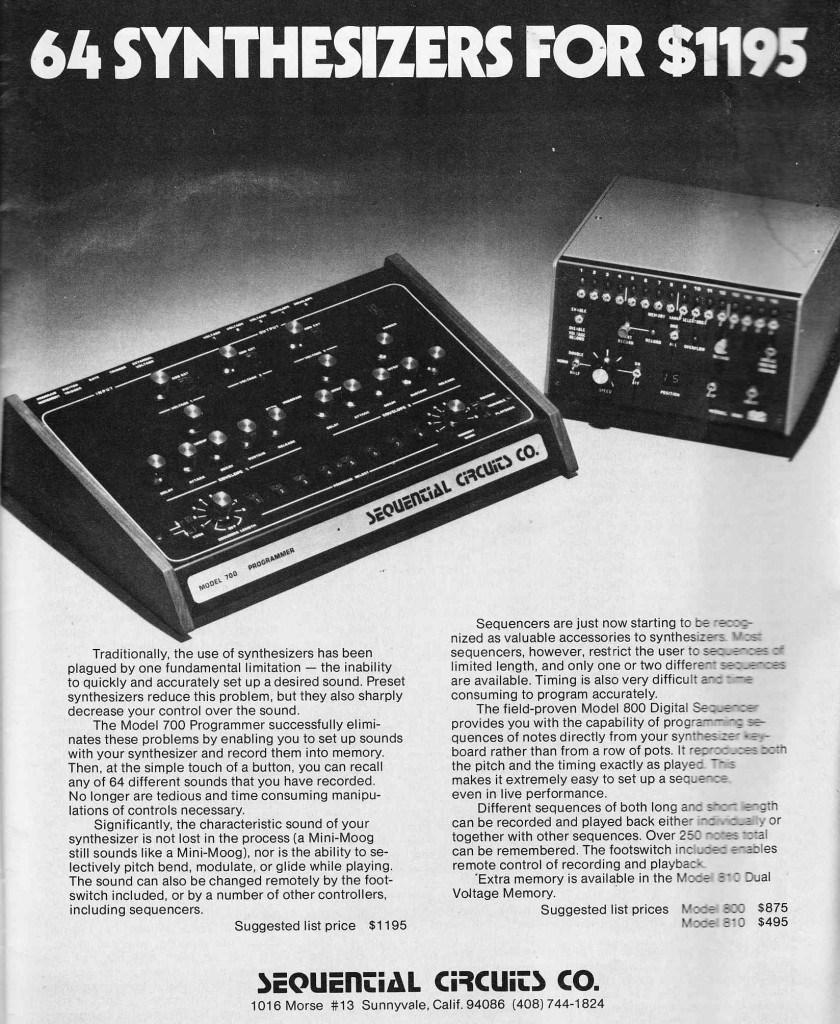 Sequential Circuits Model 700 programmer.  I assume that this thing has a bunch of jackpoints that you would connect to various I/O points on yr modular synth…  anyone use one of these?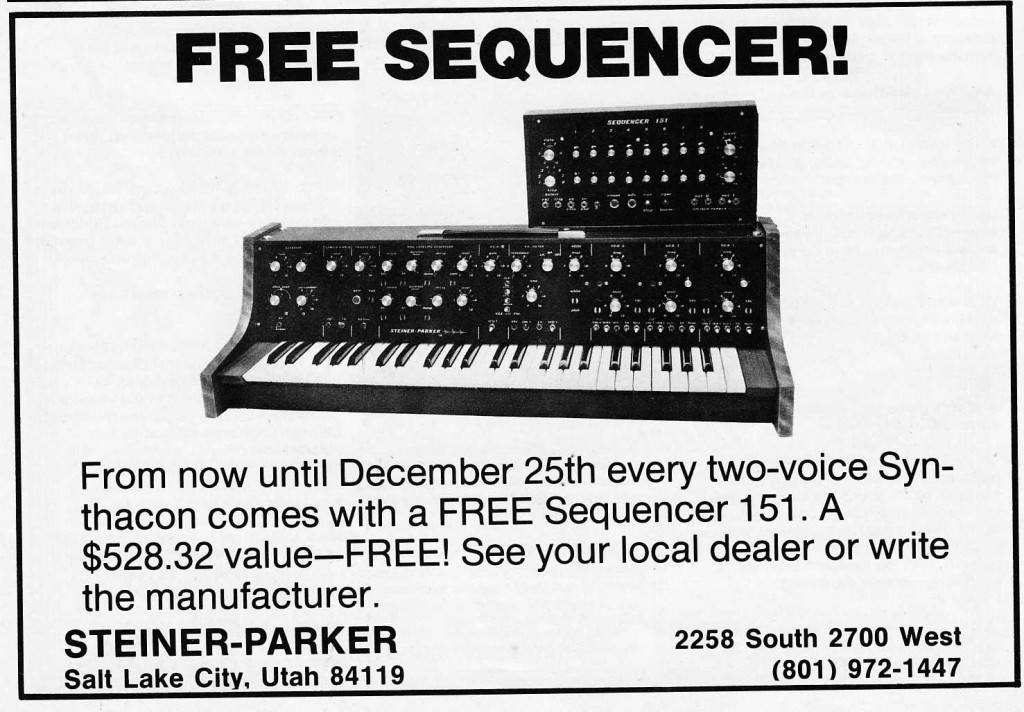 The Steiner-Parker Synthacon.  A rare Minimoog-esque unit.  Apparently used on IN THE LIGHT.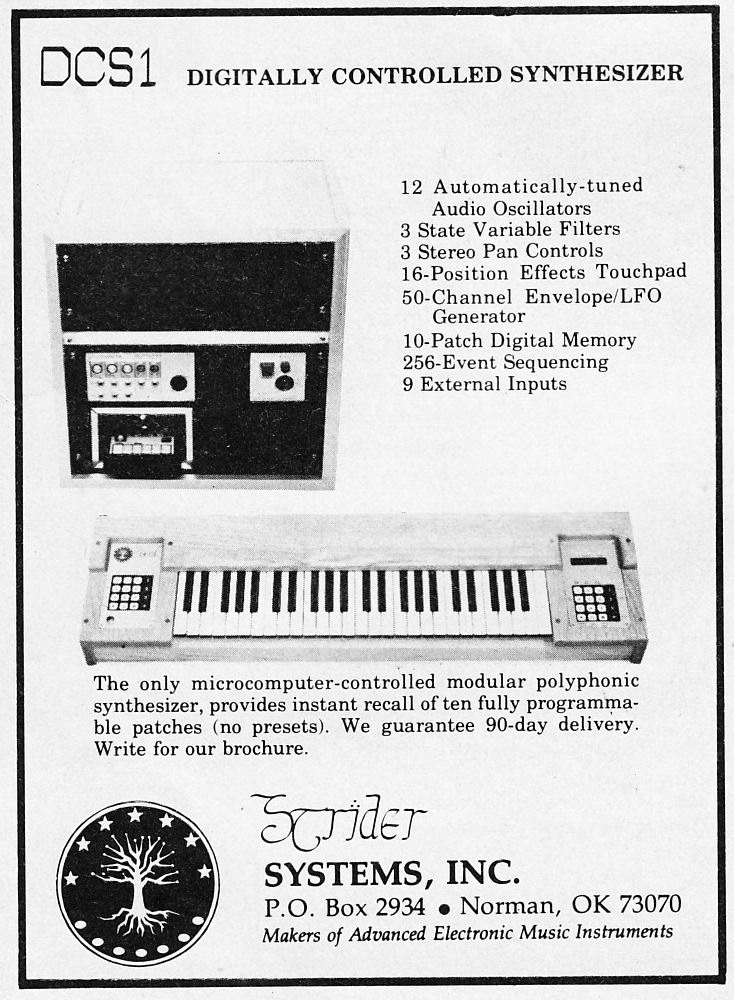 The Strider Systems DCS1.   I can't find any info on this piece.  Anyone?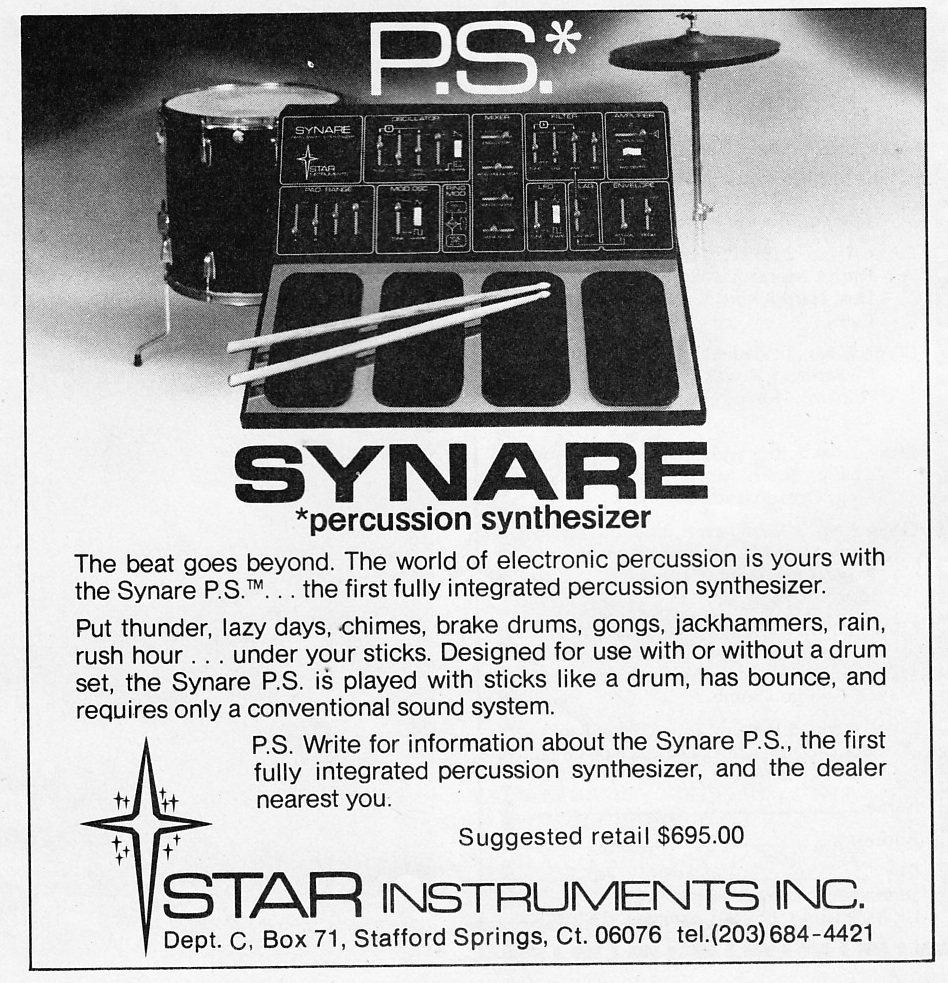 Synare PS synth drums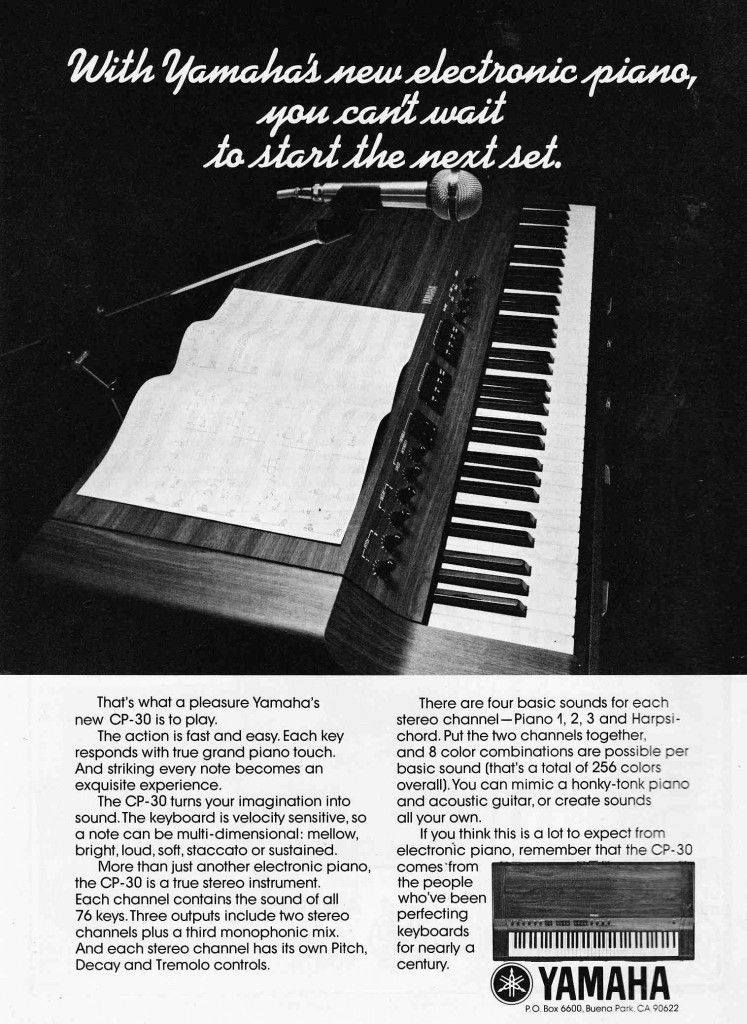 Yamaha CP-30, yet another electronic piano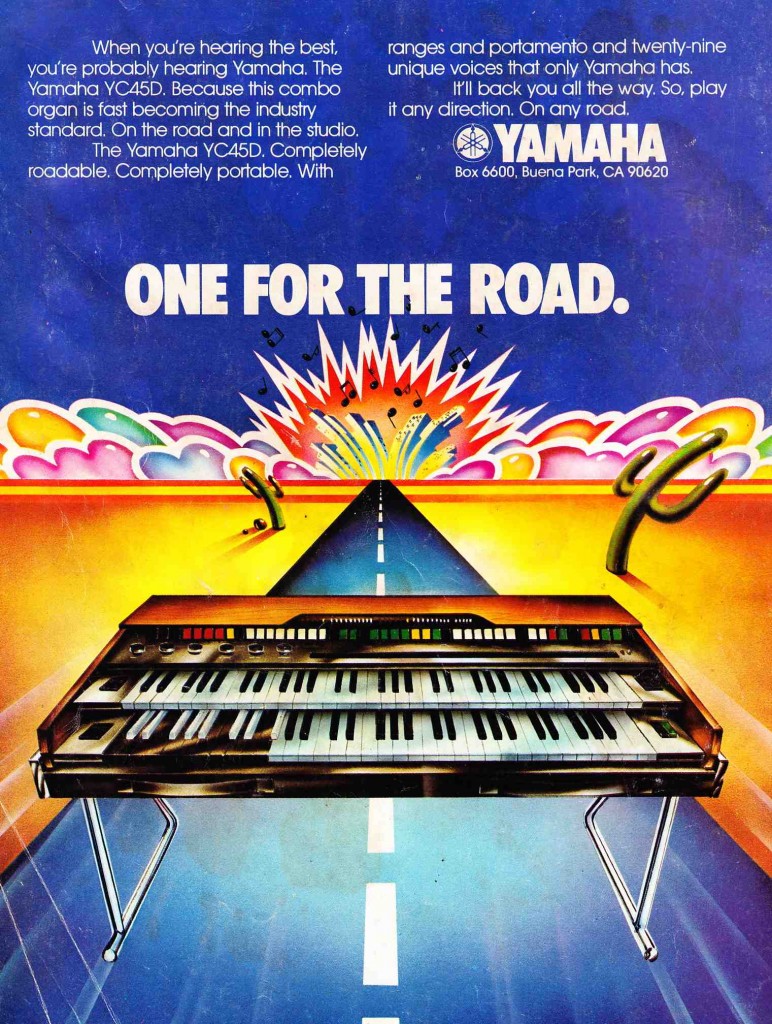 The Yamaha YC-45, the flagship model of their YC series.  The YCs are unapologetic "Combo Organs," which explains why they are still in use while the string synths and electronic pianos rest mainly in landfills.  These are great-sounding, versatile organs; they also weigh a metric tonne so be forewarned.
Want more?  Check out this site; this man has dedicated his entire blog to territory that I only dare visit.
Tomorrow: some interesting keyboard amps and FX from the era.