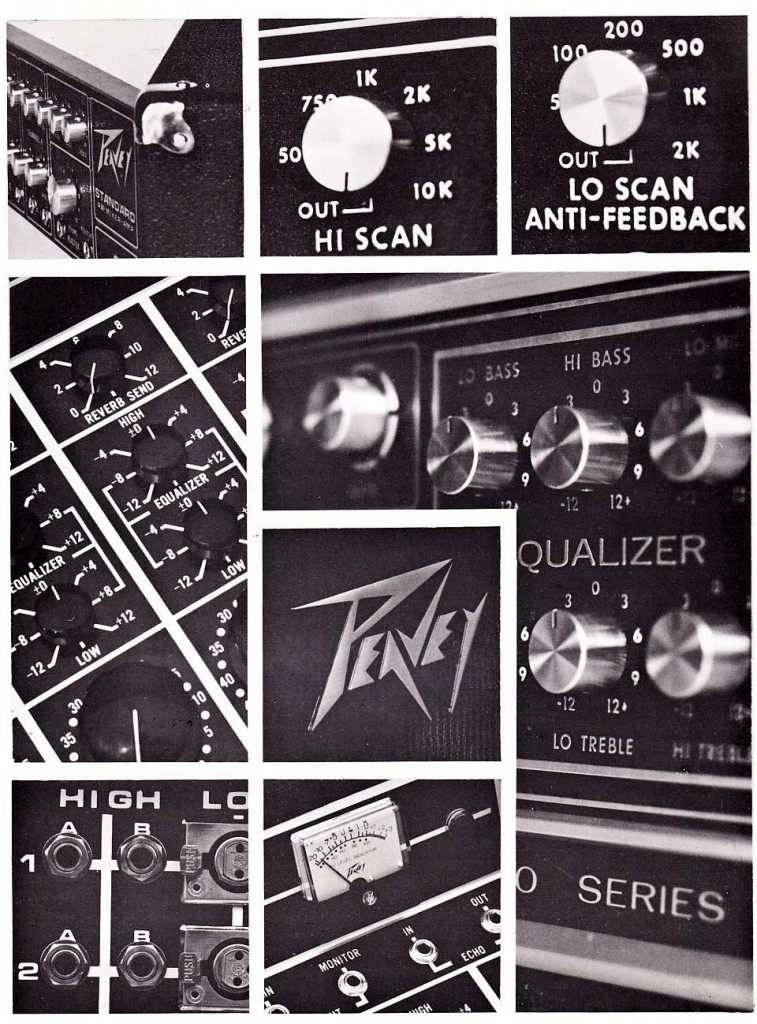 Download the twenty-four page 1973 Peavey Electronic Sound Equipment catalog:
DOWNLOAD: Peavey_1973_catalog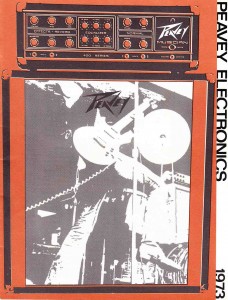 Products covered in this catalog include: Peavey Musician amplifier head; Peavey Bass amplifier head; Peavey F-800G and F-800B 'festival' high-power amplifier heads; VTA-400 tube amplifier head (with 4x 6550 power tubes); Peavey Vintage model 110 watt combo amp; Peavey Deuce 2×12 combo amp; Peavey Standard amplifier head; Peavey PA120, Standard PA, and PA 400 boxtop-style public-address mixer/amplifiers; Peavey PA-6A and PA-9 console-style PA mixer/amps; and a full range of speaker cabinets include the Peavey 115, 212, 215S, 215, 610, 412, 215H, 11bS, 612H, 118FH, and 412S cabinets.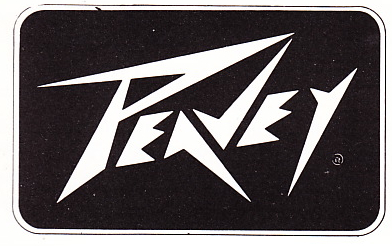 Oh that logo. So much has been said about that logo.  Here it is, already firmly in place in 1973.    It's jagged, angular lines, amateurish lack of balance, and simple hi-con style seem to make it the granddaddy of all 1980s hair-metal graphic identities, and by extension, the graphic aesthetic of an entire youth subculture of the 1980s.  Could this be?  Or is it just a coincidence?  Peavey did try a re-design in the 1990s, but came back to the 'classic' in short order.

Has there ever been a more disliked logo in the very image-conscious world of popular music?  Does Peavey (the company or the man) realize this?  And do (they/he) give a fuck?  Maybe that's the answer itself. Considering that Peavey Electronics began as the basement-industry of a high school kid, a self-taught kid who by age 24 would have his own factory in Mississippi, and less than ten years later the owner of one of the largest audio manufacturers in America, at a time when so much of the American electronics industry had fled this country for Asian manufacture:  I think it's safe to assume that yes this is a confident, proud man who flies this awful logo as if to say:  this is me.  and yeah i can get away with it.  My amps are still gonna sell.  Semiotically it exists somewhere at the intersection of the Freak Flag/Pirate Flag/Confederate Flag/American Flag.  Complicated anyhow.  Oh let's add Texas flag to that as well.  ( I know that Peavey is not based in Texas but how many people have you seen with Mississippi tattoos if you catch my drift).

Indeed.  What is power.  Is it an expression of man's will to independence, his resiliency, his ability to triumph in the face of a difficult environment?  Or is it simply his desire to dominate other men?  It's fascinating to note that in this lengthy catalog there are no guitar amplifers with less than 110 watts of power output.  There are no amplifers with less than two twelve-inch speakers (or four ten-inch speakers).  These are big amps.  Only big amps.  Peavey would eventually become (along with Crate) the standard-issue 'small practice amp' for kids and beginners in the 1980s, but there initial thrust was limited to these big, loud stage amps.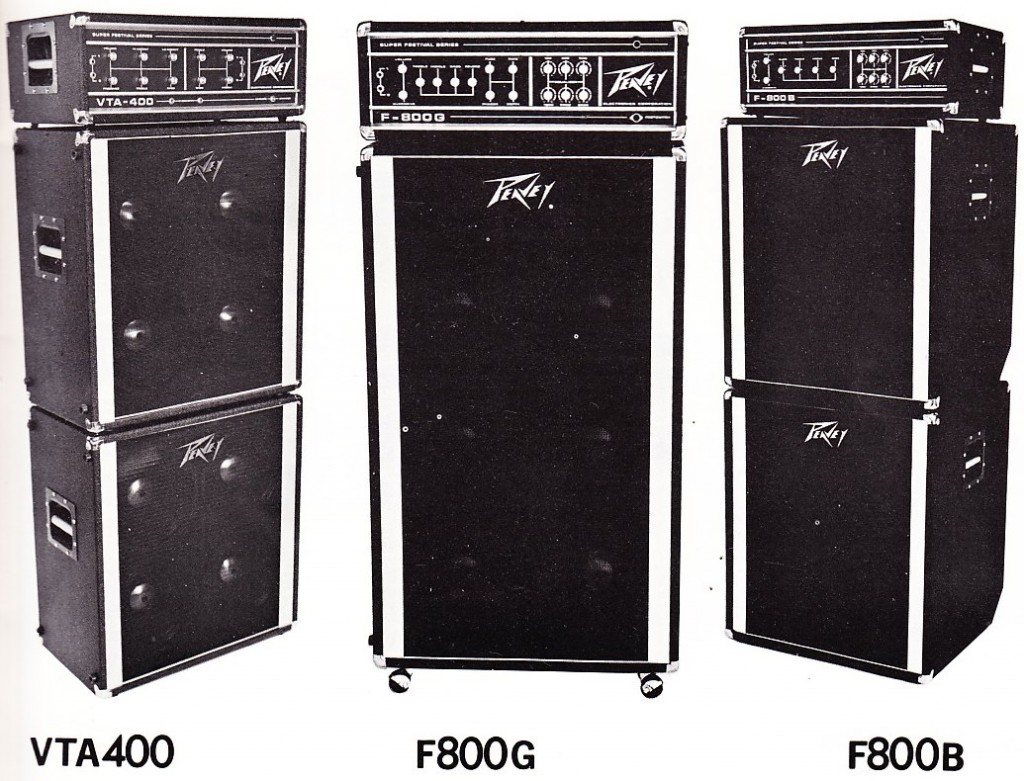 Above, the Peavey 'Festival' stacks of 1973.  Tube-powered VTA400 at left, followed by the 4oo watt solid-state guitar and bass versions.   I've owned and used several Peavey amps, but I have never plugged into a Festival.  I will say this, based on my limited experience with Peavey amps:  the solid-state circa 1985 Bandit 65 that I briefly used in high school was the the best-sounding solid state guitar amp that I have ever used.  The distortion character was incredibly tube-like; really uncanny (my other amp at the time was an all-tube Fender Champ 12, so I did have some limited frame of reference).  I later had one of those 2×12 dual-6L6/solid-state preamp combos from the 1970s; it sounded great in the room, probably due to the open-backed cabinet, but always fell short when close-mic'd.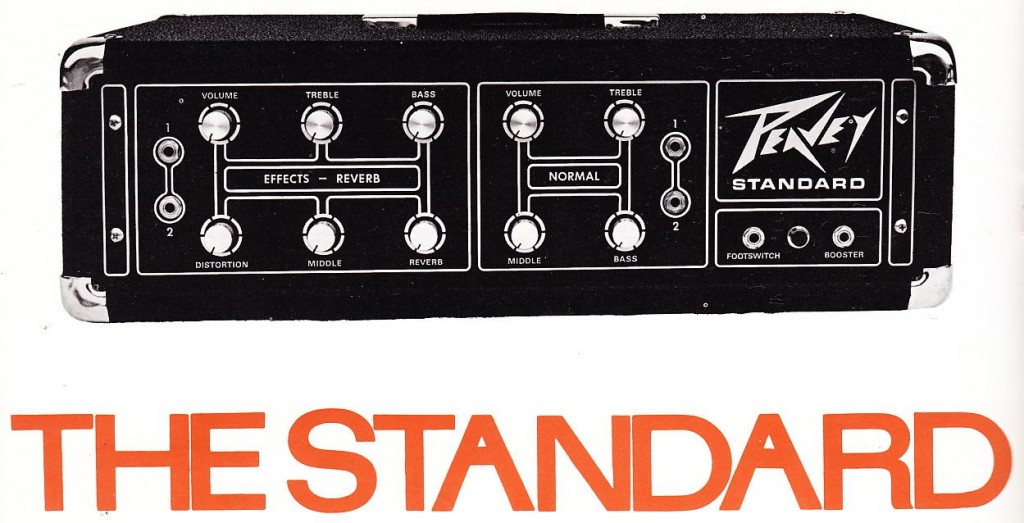 Lately I've been noticing that folks are trying to get in the area of $400 for these old Peavey stacks; this is much more money that they were ten years ago, so I suppose the 'vintage' tag is getting attached to them finally.  I'm not sure if anyone's buying them; I don't see as many bands live in clubs as I used to; if you're a young band who has chosen to rock an old Peavey solid-state stack over a (vintage or modern) tube amp, drop us a line and let us know why.  There's nothing inherently better or worse about solid-state or tube amps; it's purely a preference, a matter of aesthetics; the balance of favor has been with tubes for the past twenty years but that could certainly change someday.