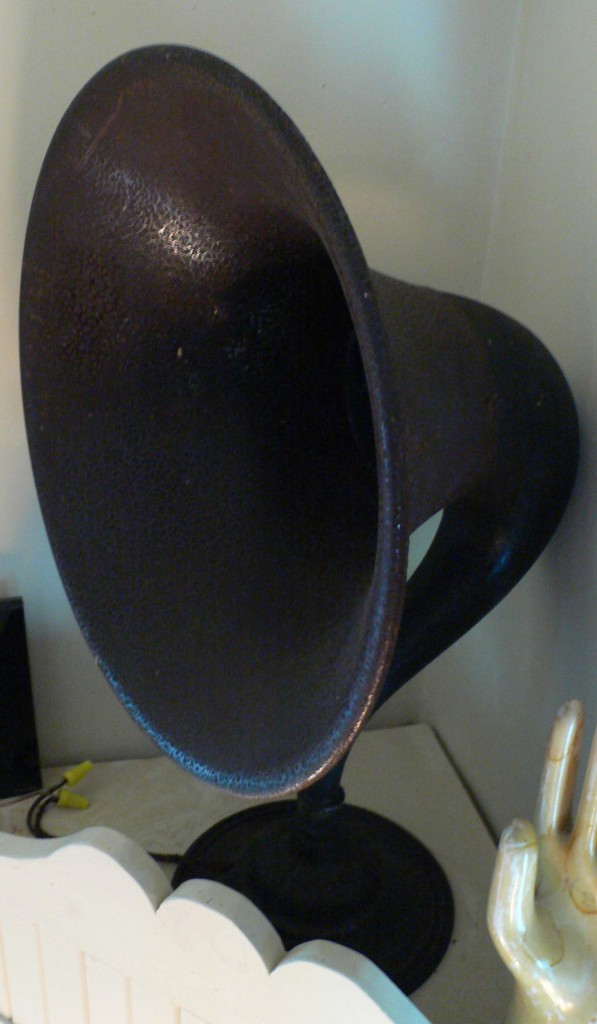 Along the lines of the 'Carbon Mic' (see earlier post) are these early horn speakers.   They are visual icons that have become separated from their actual sonic function due to the fact that they do not interface with any other audio equipment that any normal living person would own.  But don't those things look great?  yes they do.  They look very similar to the acoustic horns that are mechanically coupled to the needles of ancient record players, but in fact these are electrical.
here's an example of a very old record player which has a horn mechanically coupled to the needle: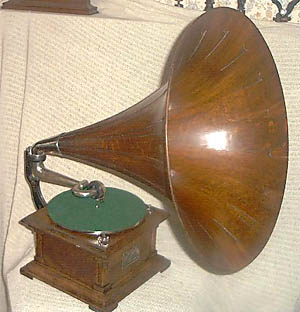 On the other hand, the early electro-mechanical horns were made for use with early Tube radios. They have drivers with permanent magnets attached to the base of the horn.  Driver: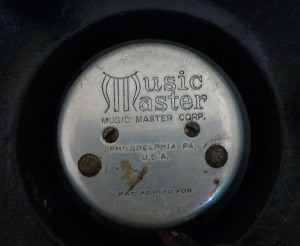 These type of speakers date from the 1920s, and they are the earliest common electro-mechanical transducers.  I picked up this example, made by Music Master of Philadelphia, at a yard sale.
Here's the base of the unit, which contains the driver.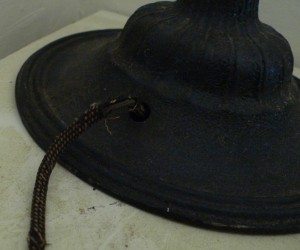 i plugged the very frayed cloth-covered wire into an old receiver and…  sound!  it worked.  the volume level was very very low, tho, even with the 50 watt receiver turned up all the way.
Turns out that these early speakers require a slightly different sort of amplifier than we use nowadays.  Not surprising.  So i built something to do the trick.  I describe the process below for those who want all the bloody details.  Once i had this thing running properly, tho…  the big question… how does it sound?  well, when listening to music recorded in the 1920s (like my Blind Willie Johnson), it sounds fine.
Later music sounds pretty bad.  and not even in an interesting way.  just bad.  But old classical and gospel are cool.   Hearing those old recordings played back on the same sort of system that folks would have used 90 years ago…  wow.  it's fun.  I have the horn (and it's attendant special amplifier) hooked up to an Apple Airport Express which hides in the base of a corner cabinet in our house.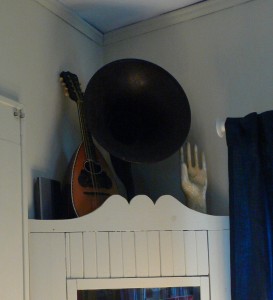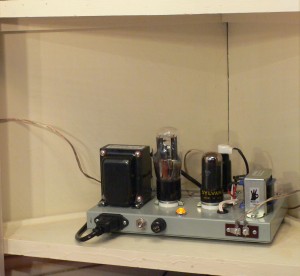 Other rooms in the house have their own full-range systems with their own Airports, so it's really easy to switch up the playback systems depending on mood etc.  Love iTunes on the laptop.
Here's the tech-y stuff for those of you who care.  So why did the speaker not play back at a decent level when used with my old SONY receiver? A quick bit of online research revealed that these old horn speakers have an effective impedance of 1000-2000 ohms.  WAY off from the 8 ohm speaker output of a contemporary receiver.   Anyhow, to confirm this, i inserted my handy University Sound universal impedance matching transformer (wired to couple 8 ohms to 600 ohms) and what do you know.  the speaker worked fine.   Decent volume level with the volume knob set at 10'o-clock.
Anyway, rather than run this thing all the time with a giant shitty receiver, i decided to simply build a tiny 5watt tube amplifier with the highest impedance that i could easily generate – 600 ohms.   I had some Edcor 5K/600 single-ended transformers lying around from a mic preamp project that i aborted because…  well…  the Edcors don't have enough low end response to make a good mic preamp.  In this decidedly lo-fi application, though, they work just fine.  I used a 6J7 (for the old-timey look) into a 6V6 tube with a 5V rectifier.  I initially built the unit with a 6L6, but the edcor was getting REALLY hot (i guess they mean it about the 5watt rating) so i switched the tube to a 6V6 (and changed the cathode resistor appropriately).  It runs cool now.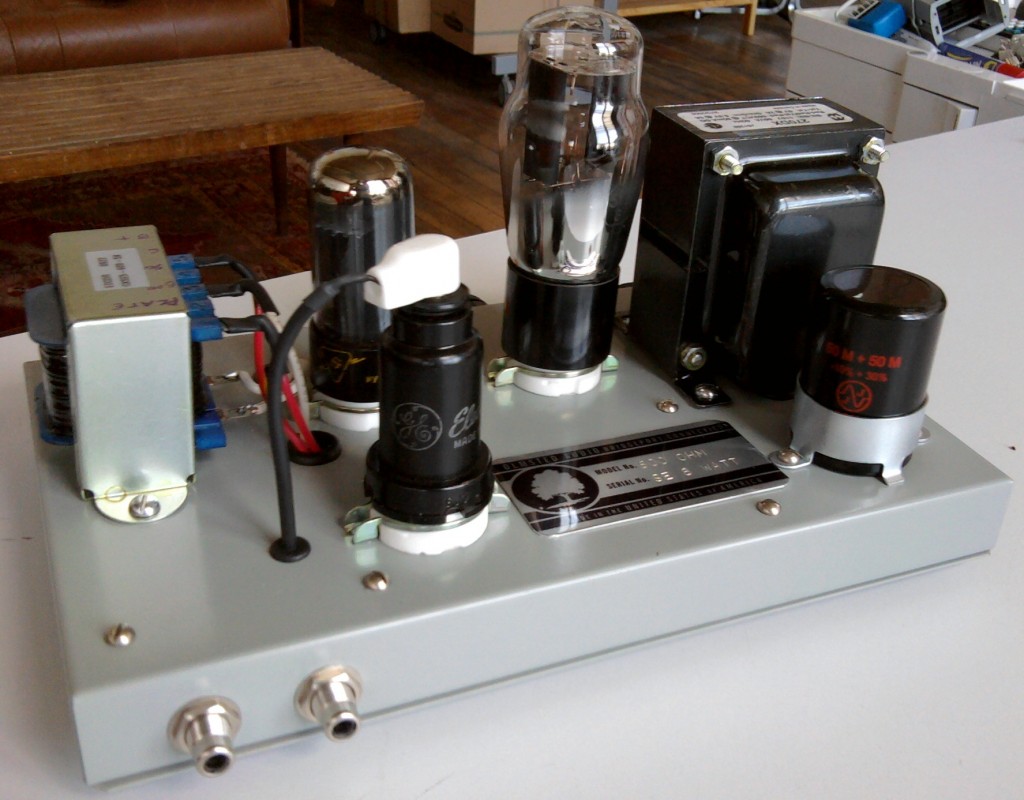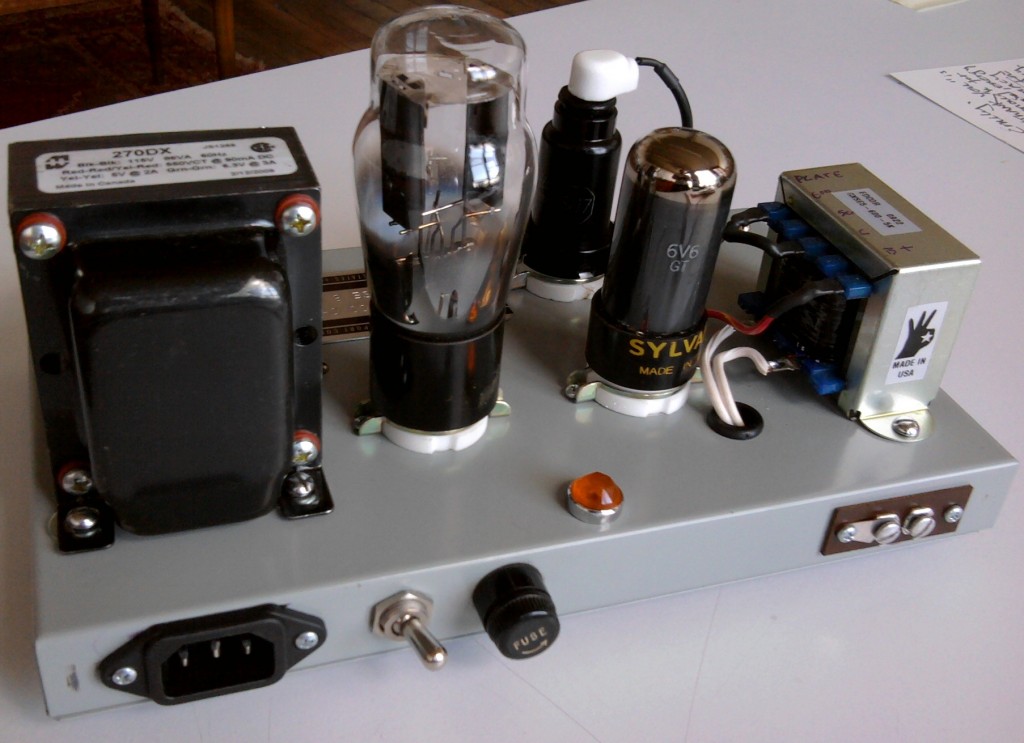 Anyhow, this little amp also has the added feature of two RCA input jacks that passively mix to the input grid of the 6J7.  which is a necessary feature since i use this to listen to (stereo) music from iTunes via the Airport Express.  Also: super-nerdy but maybe worth mentioning – dig the old 'screw-lug' speaker connection.  i have been using these a lot lately and i think they add a little charm, even tho they do generally require some dremel-ing to the chassis in order to mount. (i hate the dremel and will do almost anything to avoid it.  Greenlee punches 4eva)
If you find one of these speakers for a good price (mine was $25, down from the sellers asking price of $80), and you can confirm that it works, you might want to pick it up.  One caveat: i apparently got lucky with the speaker that i bought.  Apparently, it's common in these older units for the magnets to actually have lost their charge, and if that's the case, they will need to be re-magnetized using wire and very high voltages.  Dangerous and irritating.  There are a few pages on the web that describe this procedure.  It's pretty incredible to me that this technology is so old that the magnets have lost their charge.  crazy.  will this happen to all of our permenant magnet speakers some day?  will all of those coveted old Alnico drivers be useless at some point?  when?  2050?  Can't wait for "The Day The Tone Died"  haha i can't believe i said that….   awful.    Hate 'Tone' as a synonym for 'pleasing sound quality in an electric-guitar sound reinforcement scenario.'
Does anyone out there use one of these speaker systems for music listening?
Anyone have a dedicated 'antique' system for listening to certain genres/ periods of recordings?