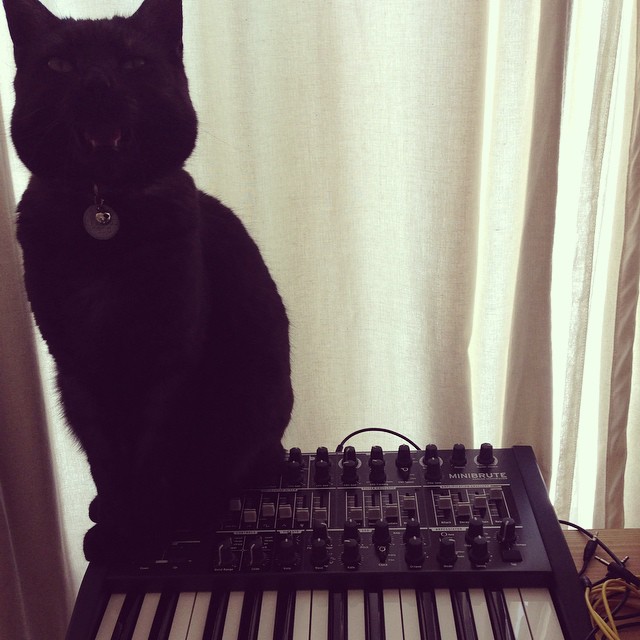 This Thursday Oct 23 2014 will be my first-ever solo performance.   I've created a system of pulse-synchronized analog synths and four-track cassette machine that I will manipulate live with a quadraphonic sound system.  I will be improvising on the disparate themes of: the creation of the world, the death of a loved one, and the Twentieth Century.  The performance is part of the University of Bridgeport/ Housatonic CC "One Plus One" show of art and design-school faculty.  Here's the details from the press release:
University of Bridgeport's Shintaro Askatsu School of Design & Housatonic Community College Co-Host Faculty Art and Design Exhibition
 "One Plus One" Show Opens with Oct. 23rd Reception, from 5:30 – 7:30 p.m. at Schelfhaudt Gallery
 Faculty members from Housatonic Community College and Shintaro Akatsu School of Design will show their own work in a collaborative exhibit named "One Plus One". The show features graphic design, painting, photos, sculpture, video art, drawing, digital arts, typography, installation, and illustrations created by 27 faculty members from both schools.
The opening reception on Oct. 23rd from 5:30 – 7:30 p.m. is free and open to the public.

Shintaro Akatsu School of Design (SASD) on the University of Bridgeport campus is located in the Arnold Bernhard Center (ABC), 84 Iranistan Avenue, Bridgeport, CT 06604.
For more information about this and other upcoming exhibitions, contact Gallery Director Peter Konsterlie at 203.576.4034, or schelfhaudtgallery@gmail.com.
I'll be doing the 22 minute piece between 6 and 7.  It is free and open to all.