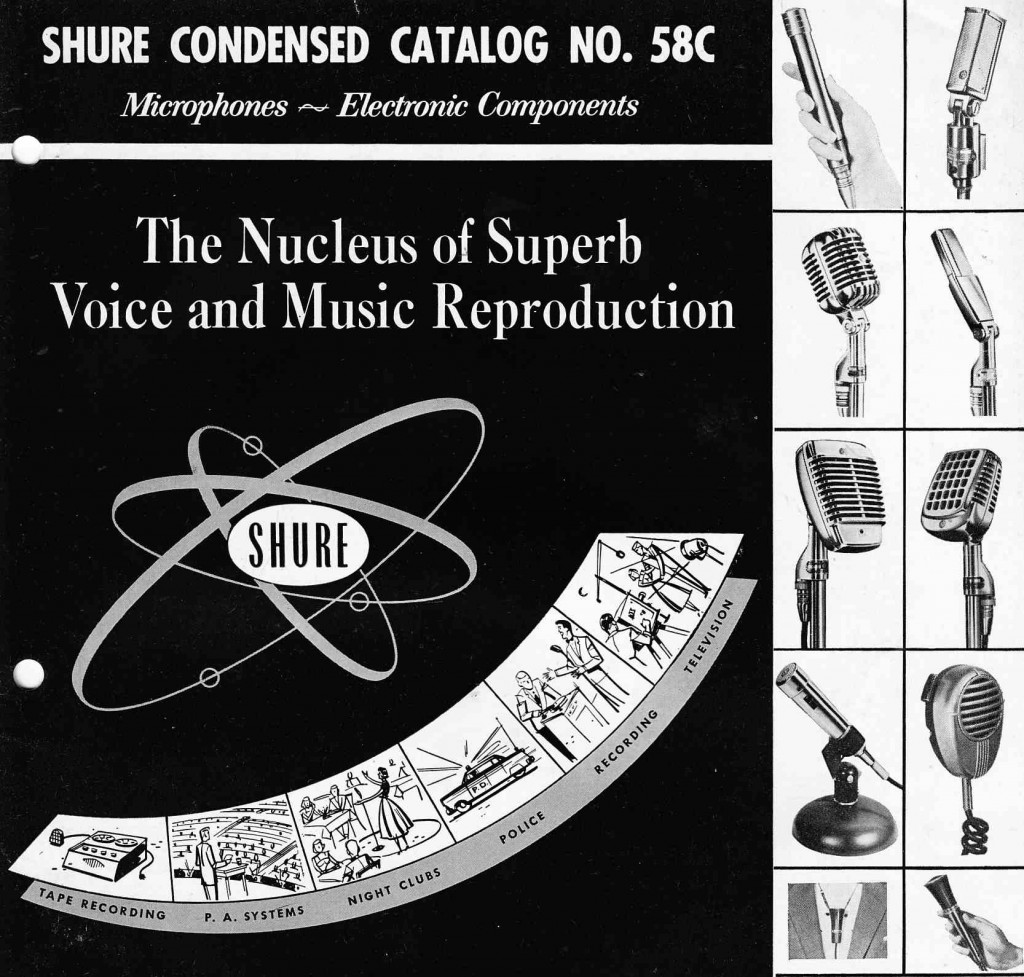 Download the entire twelve-page SHURE c. 1954 catalog:
DOWNLOAD: Shure_Microphones_1954_Catalog
Models covered include: Shure 333, 525, 300, 330, 55s, 556s, 51, 535, 530, 315; 430 Commando, 215, 715; A86A impedance-matching transformer; Slim-X, Monoplex, and Stratoliner; Green Bullet, Hercules, and Ranger; plus a wide range of tape heads and phono cartridges.

The Shure 55s and 556s (see images at left) are undeniably the most iconic of all microphones.   Examples:  when Elvis Presley got his postage stamp, he was pictured with a 55.  When Eva Peron declared 'don't cry for me, Argentina,' the Shure was there. (AFAIK).
For the curious: There are actually 4 different models of Shure Mic that get lumped into the 'Elvis Mic' designation.  The 55s and and 556s seen on the left are the 'small' versions of the earlier 55 and 556.  The 'S' means small.
As far as the difference between the 55(s) and the 556(s): the 55 is the 'PA' live-sound reinforcement version, and the 556 is the pro 'broadcast' version with improved frequency response and a built-in rubber isolation mount (hence the larger base), and presumably a better transformer.
*************
*******
***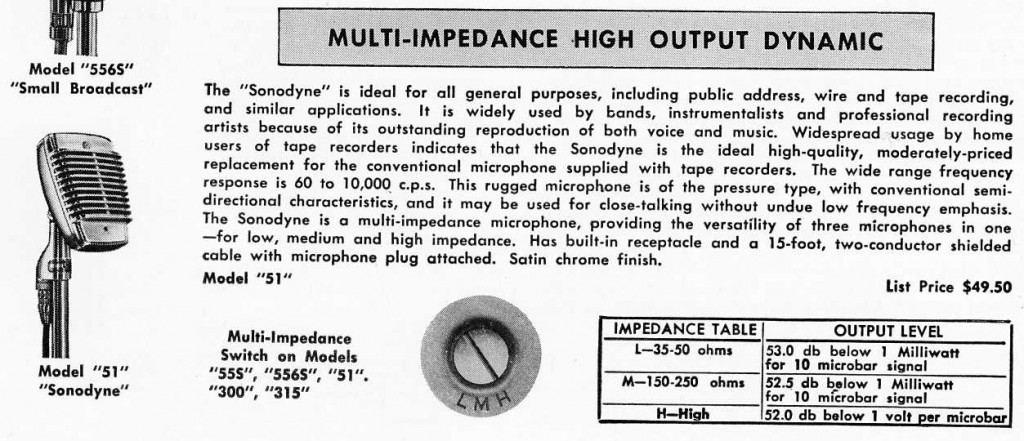 Besides these iconic 55-series mics, Shure made a great number of other models in the 50's.  The Model 51 seen above was one-step below the 55.  These sound pretty cool.  A few years ago I chanced upon a pair of 51s, still in sealed cartons.  One worked, the other did now.  One thing to remember with these early low-Z mics: they do not use XLR connectors.  The use an earlier amphenol (i think..) screw-on connector.  Easy enough to find, but keep it in mind if you plan on buying one, as you will likely want to replace the factory cable.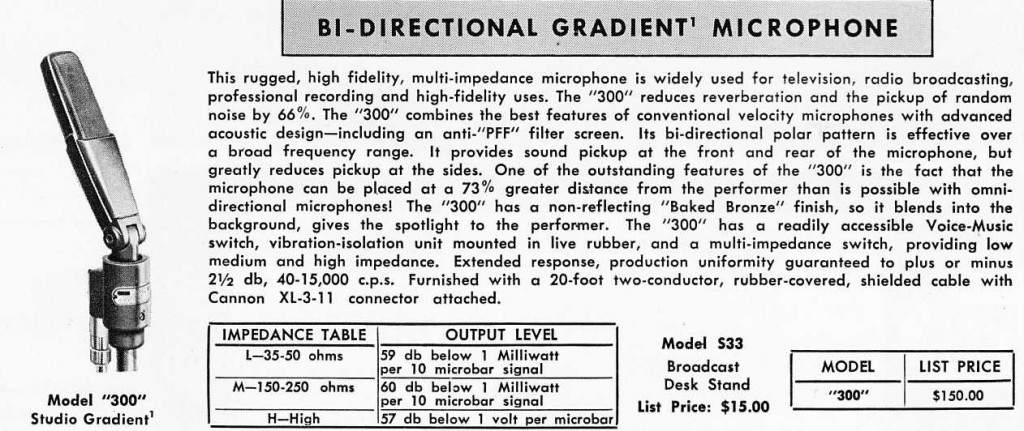 Shure also made 2 lines of ribbon mics into the early 1980s (they have only recently gotten back into this type of product).  The 300 and 315 are the bi-directional figure-8 models (again, 'broadcast' and 'PA' models, respectively), and the 333/330 are cardioid ribbons.  I have a mint-condition 300 which I had re-ribboned by ENAK repair.  It sounds good but… the transformer seems to not be magnetically shielded, making it very sensitive to physical orientation.  Combine this unfortunate feature with a very low output level and you get a mic that is frankly not very useful.    Beware…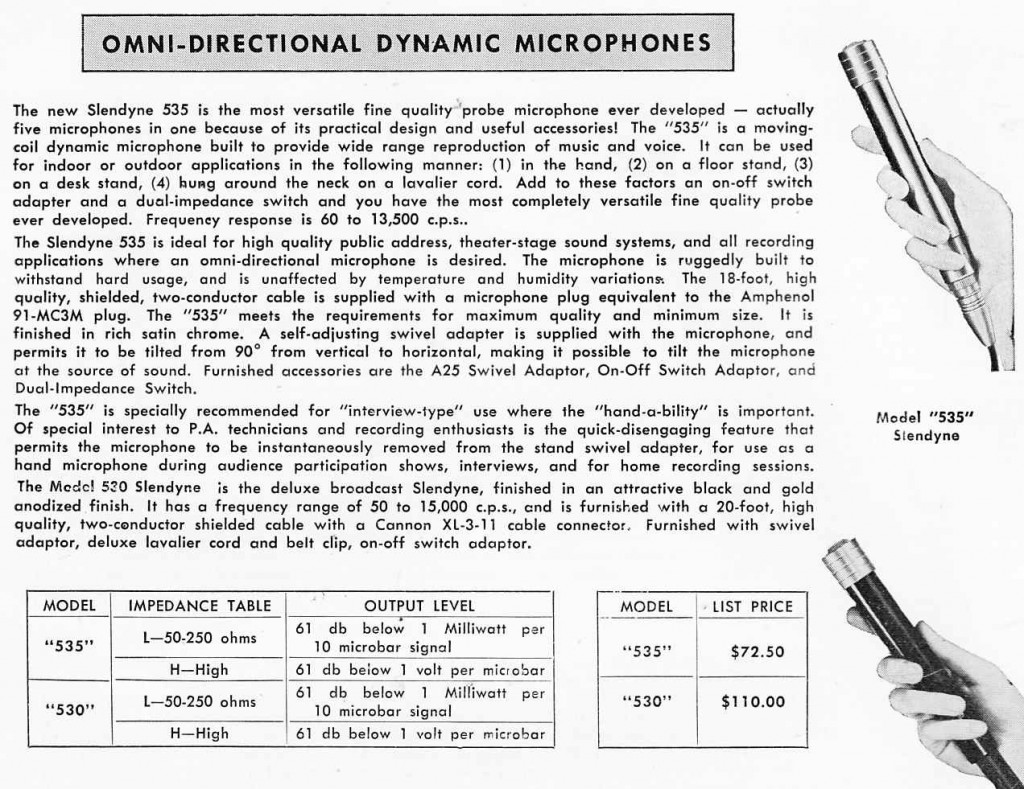 I also found pair of factory-sealed (hermetically-sealed foil-lined bags, actually) of military-surplus Shure 535s not long ago.  The 535 has a limited frequency response, but it sounds pretty cool.  These actually get used in the studio.  A 535 was included in my 'Forgotten Mic Shootout' earlier this year, so follow the link to hear it if you are curious.  I am honestly not sure why omnidirectional dynamics are no longer used much (Shure does still make a few models, btw), but they are useful for some recording tasks.