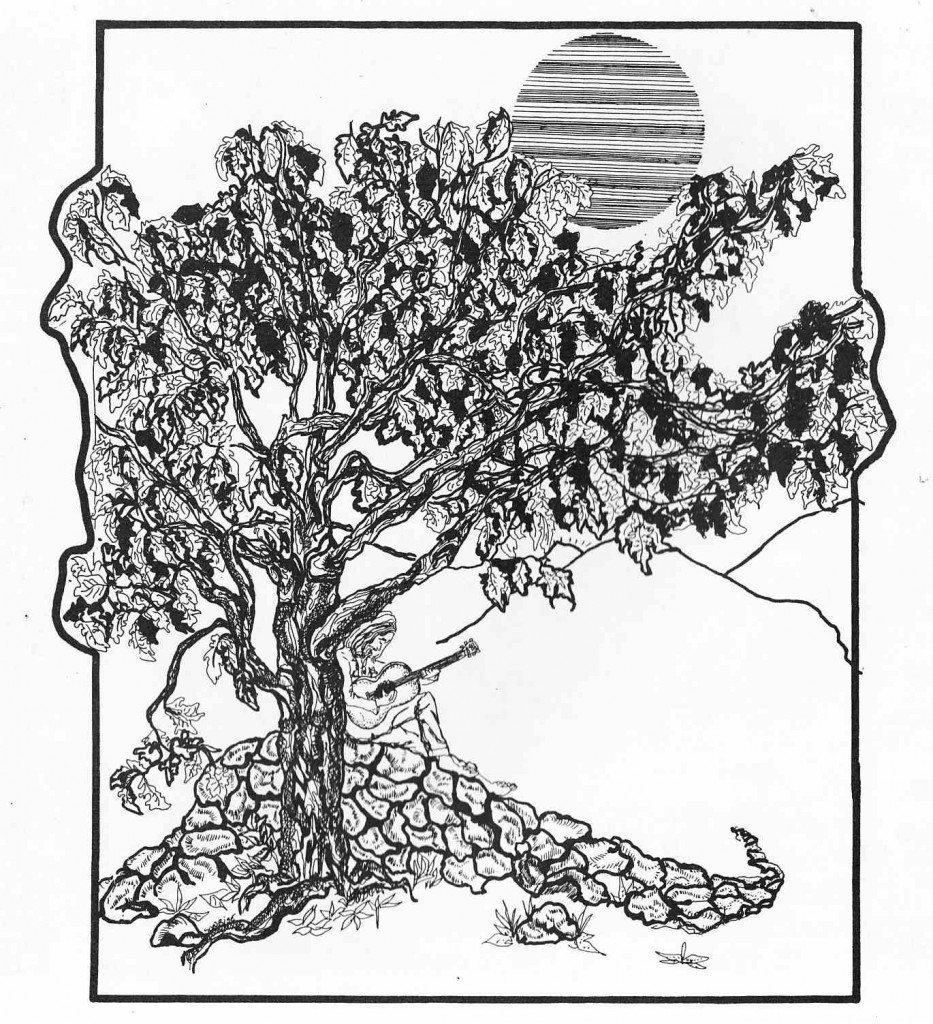 Download a thirteen-page excerpt from "The Guitars Friend" (no author credited), Quick Fox publishers, ISBN# 0-8256-3072-X:
DOWNLOAD: GuitarsFriend_Elec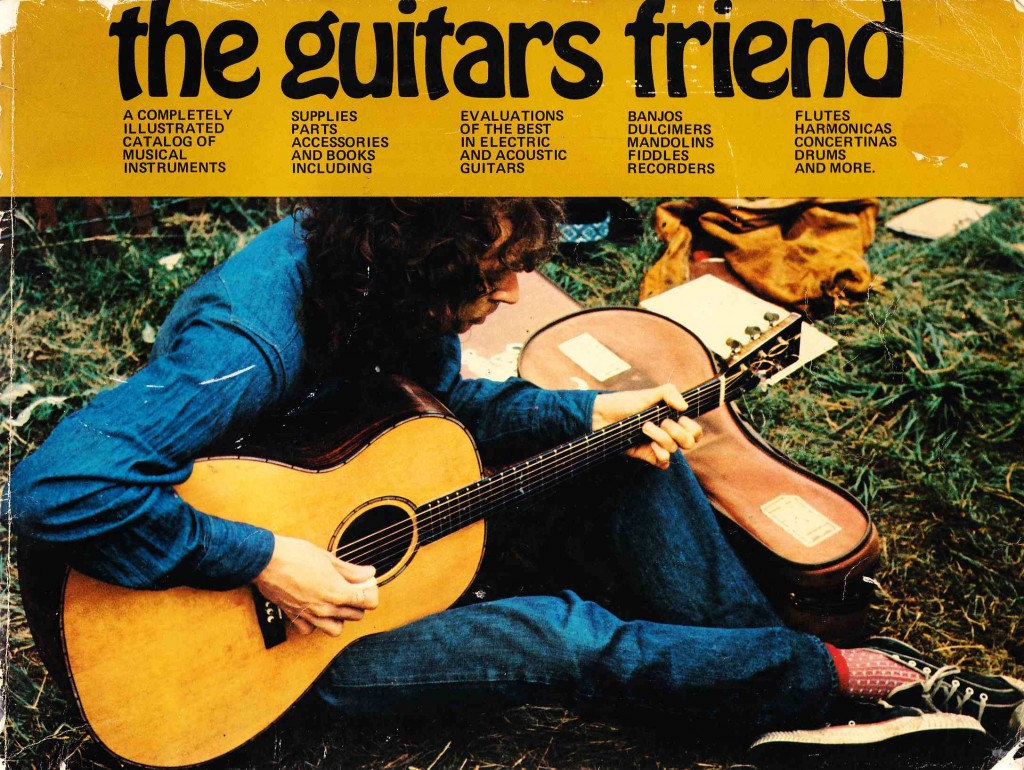 Billed alternately as a 'Catalog' and a 'Guide,' "The Guitars Friend" (h.f. "TGF") is a charming artifact of the late-hippie-era.  From the self-description offered in the book, TGF began as a mail-order catalog begun by former (owners or employees – unclear) of 'Music, Strings, and Things'  a Detroit-area music store.  Seems that these retailers wanted to move to the country, and they took their business with them.  A few years later, they had stopped the mail-order business and took to solely publishing this guidebook to current musical instruments.  We're not trying to sell you anything, man.  Just sharing.  (Although they apparently will sell you much of the gear if you write to them?  it's all very vague.) Check it out in their own words: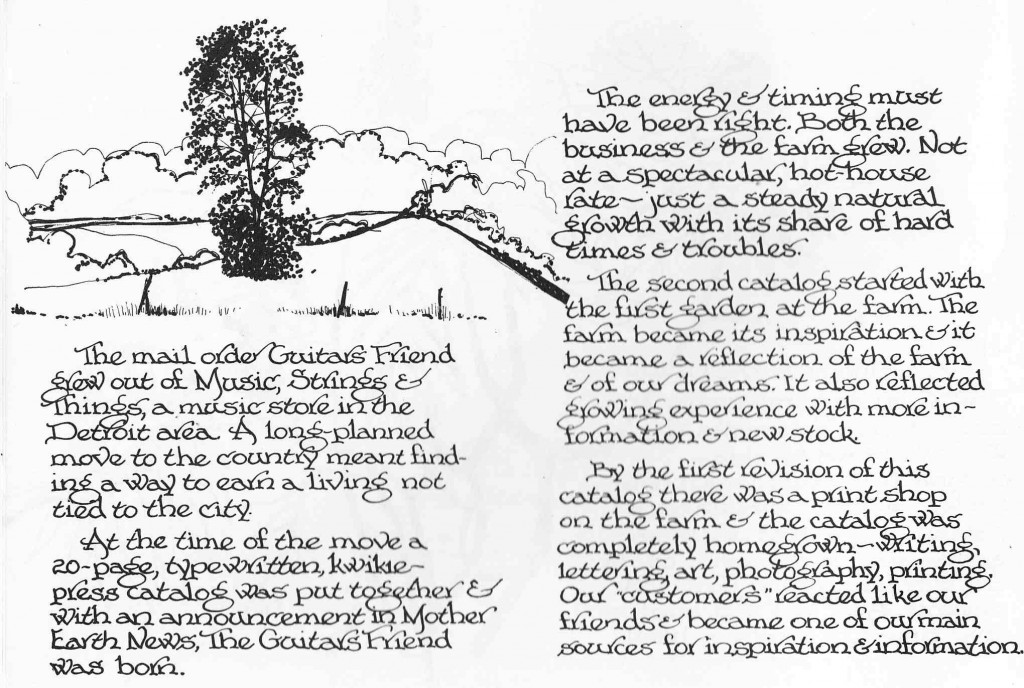 The entire 180-pp volume is entirely hand-lettered and largely hand-illustrated.  It's a pretty fantastic relic of the post-woodstock-youth generation as well as the back-to-the-land movement.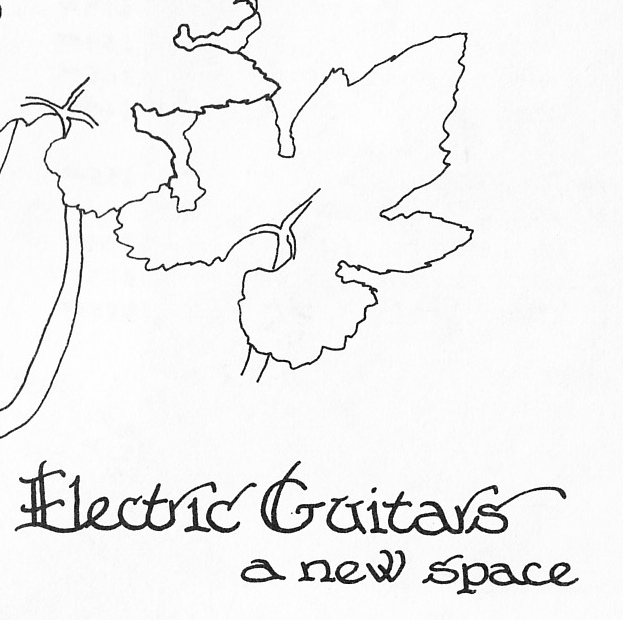 The book features descriptions and advice concerning mainly acoustic instruments, but there is a good ten pages devoted to electric guitars (no mention of amps and effects).  I've included the electric bits in their entirety in the download link at the head of this article.  Guitars depicted and discussed include: Ibanez Firebrand, Rocket Roll, MoonLight 59, F.M. Jr, Howie Roberts, Rick Bass, Old-Style Strat, and Strato Model; Gibson Les Paul Custom, Les Paul Deluxe, ES 335, SG Custom, Standard, L6S, and the Gibson Ripper and Grabber Bass; Fender Stratocaster, Telecaster, Mustang, Precision, Jazz, and Mustang Bass (es); Rickenbacker 4001; The Seagull Guitar, described as being built by Bernardo Rico (better known in the 80s as B.C. Rich);The Travis Bean TB1000 Standard and Deluxe; The Sunrise Electric Guitar (no model name given; made in Kalamazoo MI); and finally the Alembic Long Scale Bass and guitar, a steal at $1750 (that's $6200 dollars in today's bread).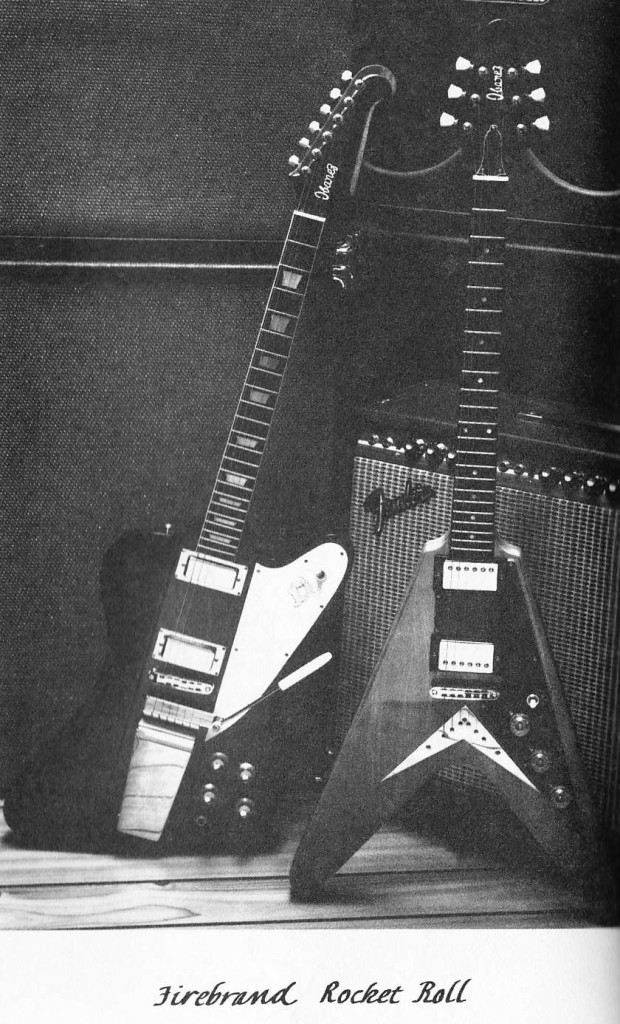 Anyhow.  DL the file and give it a look…  some of the writing is pretty amazing; as in the discussion of Ibanez, who were then churning out thousands of what we now term 'lawsuit guitars':
"The Ibanez people…can make a copy of almost any stringed instrument and make it as good but cheaper than the original…The only complaint people seem to have is status-wise – that it is a Japanese copy.  Once they get past their own ego and conditioning, they are amazed at the quality."
Let go of yr hangups and order a copy of "The Guitars Friend."  Four currently available on Amazon dot com.