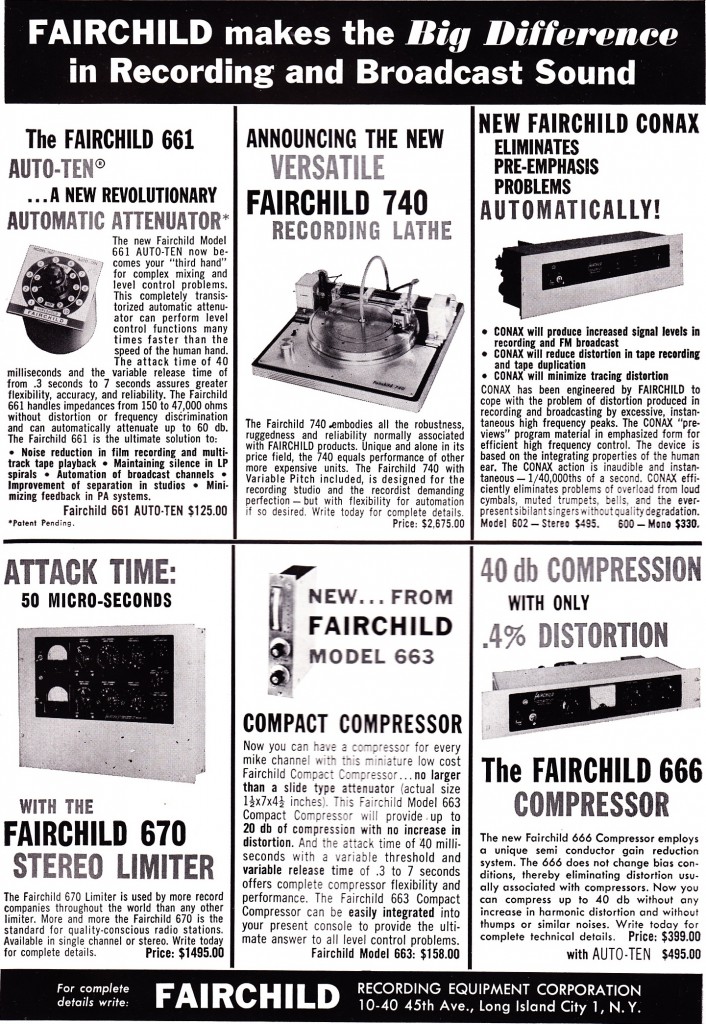 Above: the Fairchild 661 Auto-ten (a noise gate, apparently), 740 Lathe, 602 and 600 Conax (de-essers, apparently), 670 stereo limiter, 663 Compact console channel compressor, and 666 compressor, which wants you to know that it is emphatically NOT a vari-mu compressor.
Today on PS dot com: some pro audio gear from NYC's legendary Fairchild Recording Equipment Corporation.  This post will strictly be a scan of marketing materials from the era, as I have never used or serviced any of these pieces (other than a 670 clone).   A PS Dot Com reader alerted me to the fascinating story of Sherman Fairchild, the man behind the corporation that brought the world this very advanced audio technology: you will not be surprised to learn that he had roots in the aviation industry and a key connection to IBM.  See the comments section or click here to learn more.
this gets a little lengthy so click below to READ ON…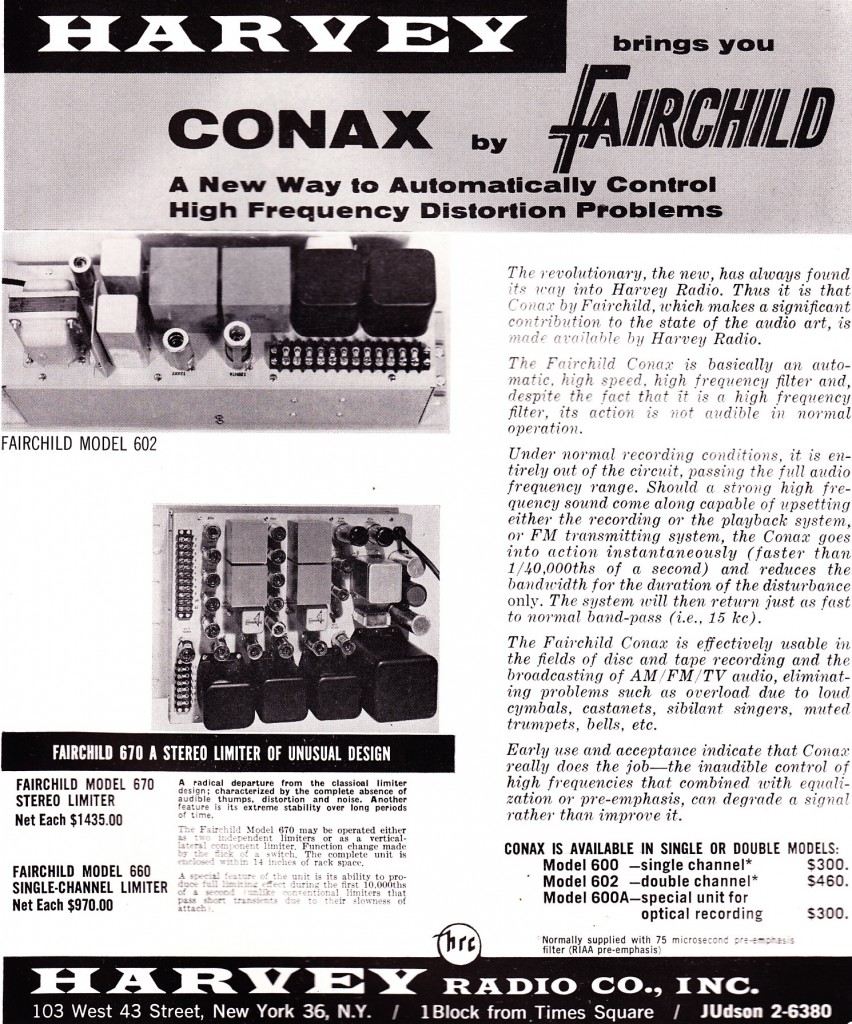 Above: the 602 Conax and 670 limiter.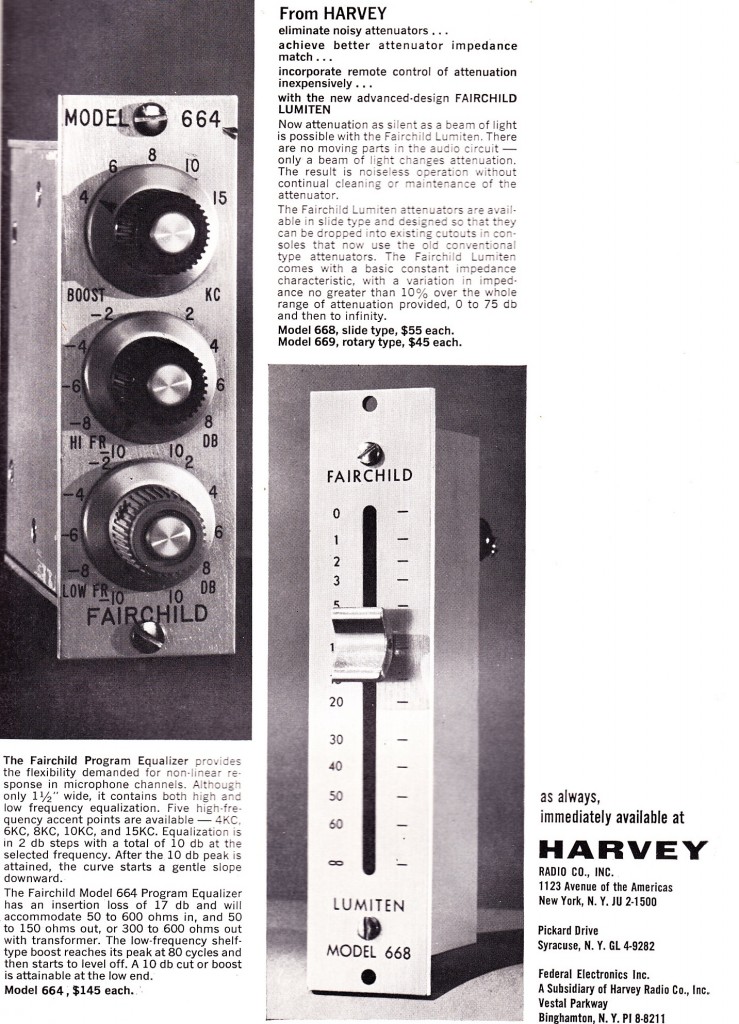 Above: the Fairchild 664 console channel equalizer.  A nice-looking example (with integral gain make-up stage!) is on eBay right now for a pretty reasonable price. The 668/669 Lumiten is an attenuator that uses a light source and LDR to regulate gain.  See the 'Comments' section of this post for much more information regarding the Lumiten.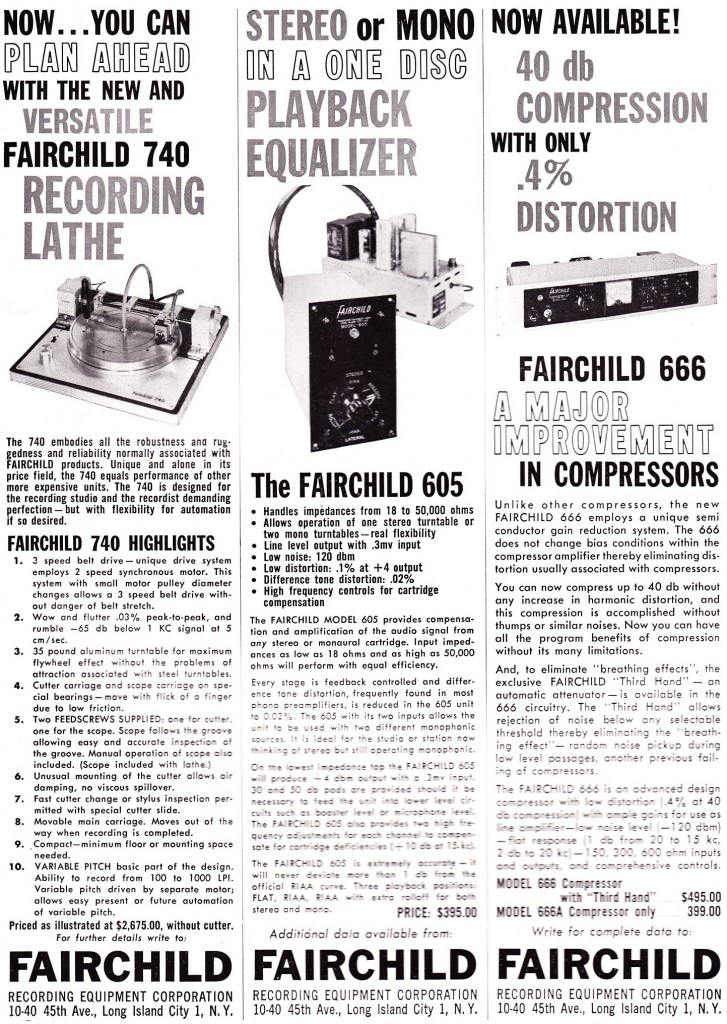 Above: the Fairchild 740 lathe, 605 phono EQ, and 666/666A compressor.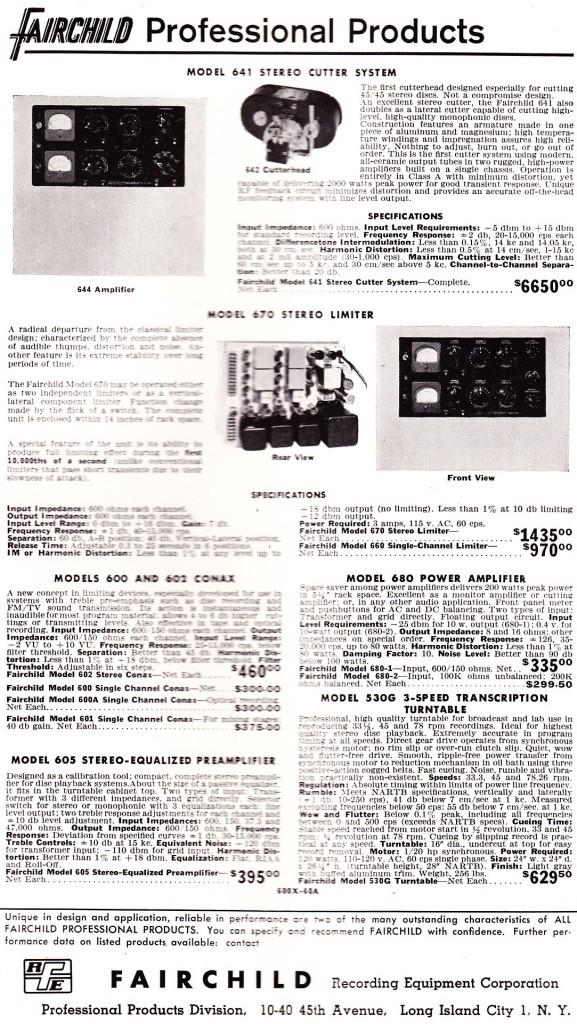 Above: the Fairchild 641 stereo cutter system, 670 stereo limiter, etc..

Above: the Fairchild Integra range of console channel modules circa 1963:  For each channel on your board, you could have a 662 preamp, a 661 gate, a 664 equalizer, a 663 compressor, all controlled by a 668 noiseless Lumiten fader.  This is some incredible technology considering the era.  I gotta imagine that no intact Integra console still exists.  Anyone out there ever work on one of these?

And finally, some detail on the Conax.  Based on the description here, it seems like this piece was high-frequency compressor…aka a de-esser. 
For more Fairchild audio coverage on Preservation Sound… click this link.