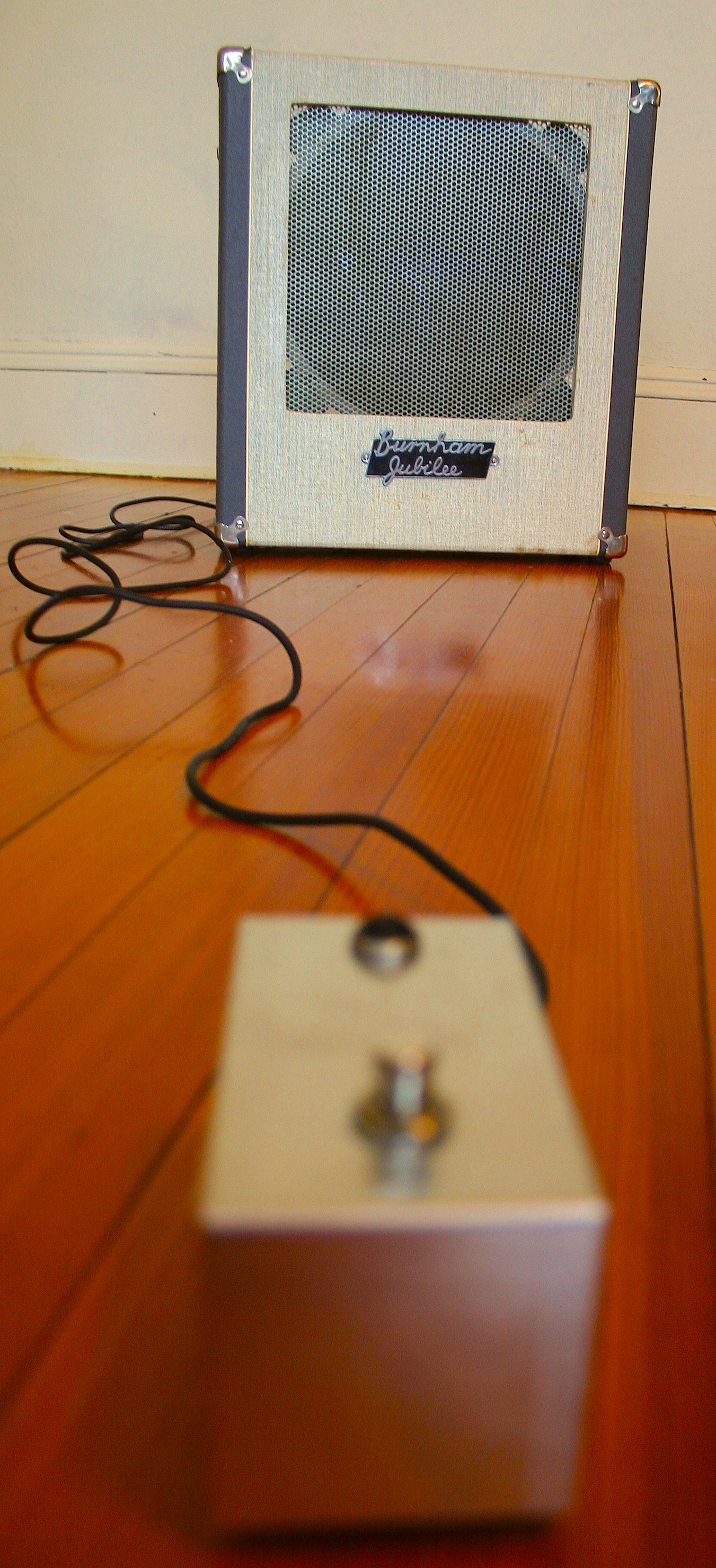 As I mentioned on my Tumblr last year, I used the idle time during our annual Open Studios event to construct yet another Fender Champ-based guitar amplifier.  I had purchased a pair of unused circa 1955 suitcase-PA speakers cabinets, along with a Shure Commando mic, as a set on eBay for a few bucks with the intent of turning them into lil combo amps.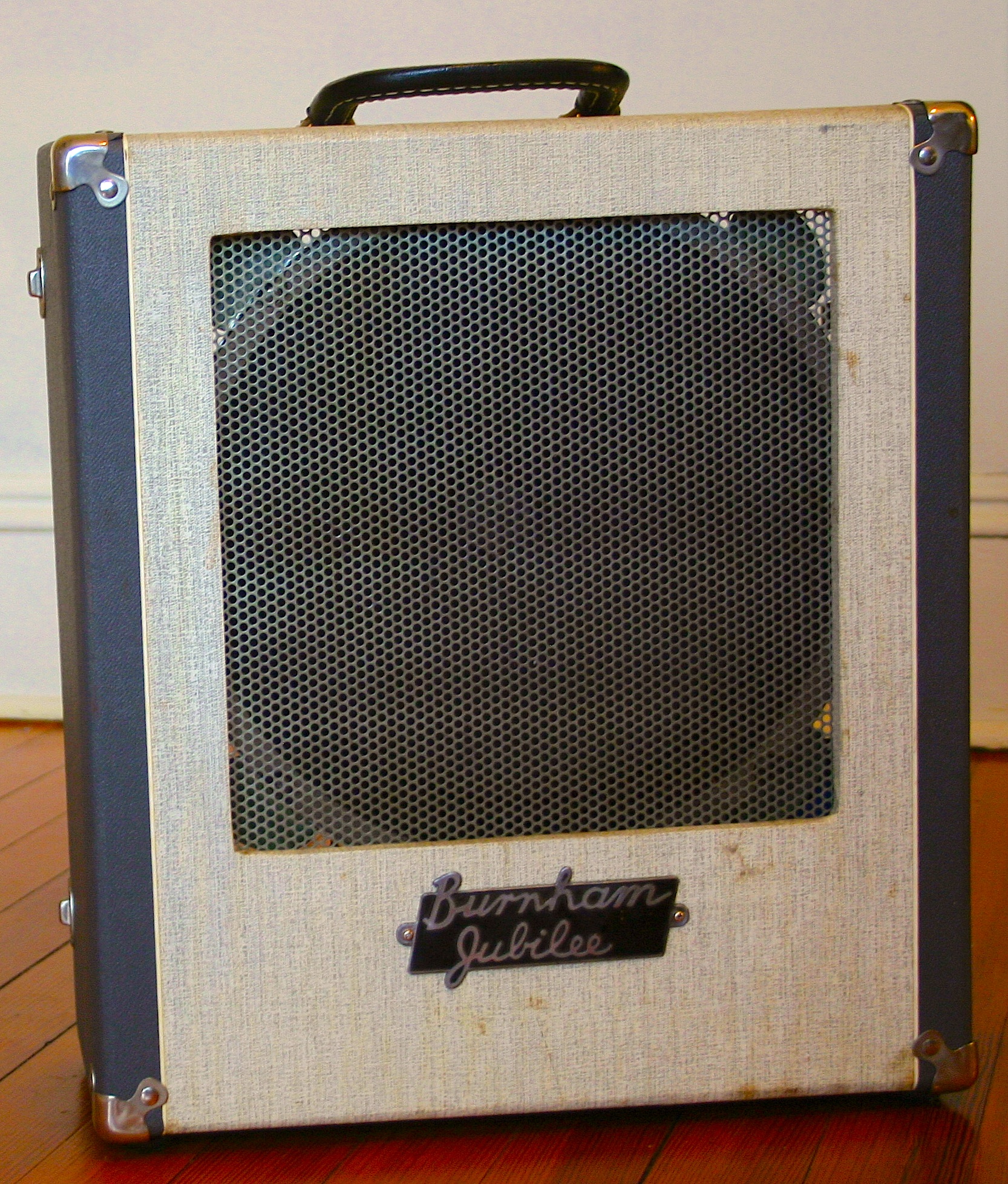 Aside from some odd shopwear/discoloration, the cabs were very solid and the original 12″ drivers sounded good.  Based on the interior space available (and the relatively low power handling of the  driver) I decided to build a variation on the classic Fender Vibrochamp.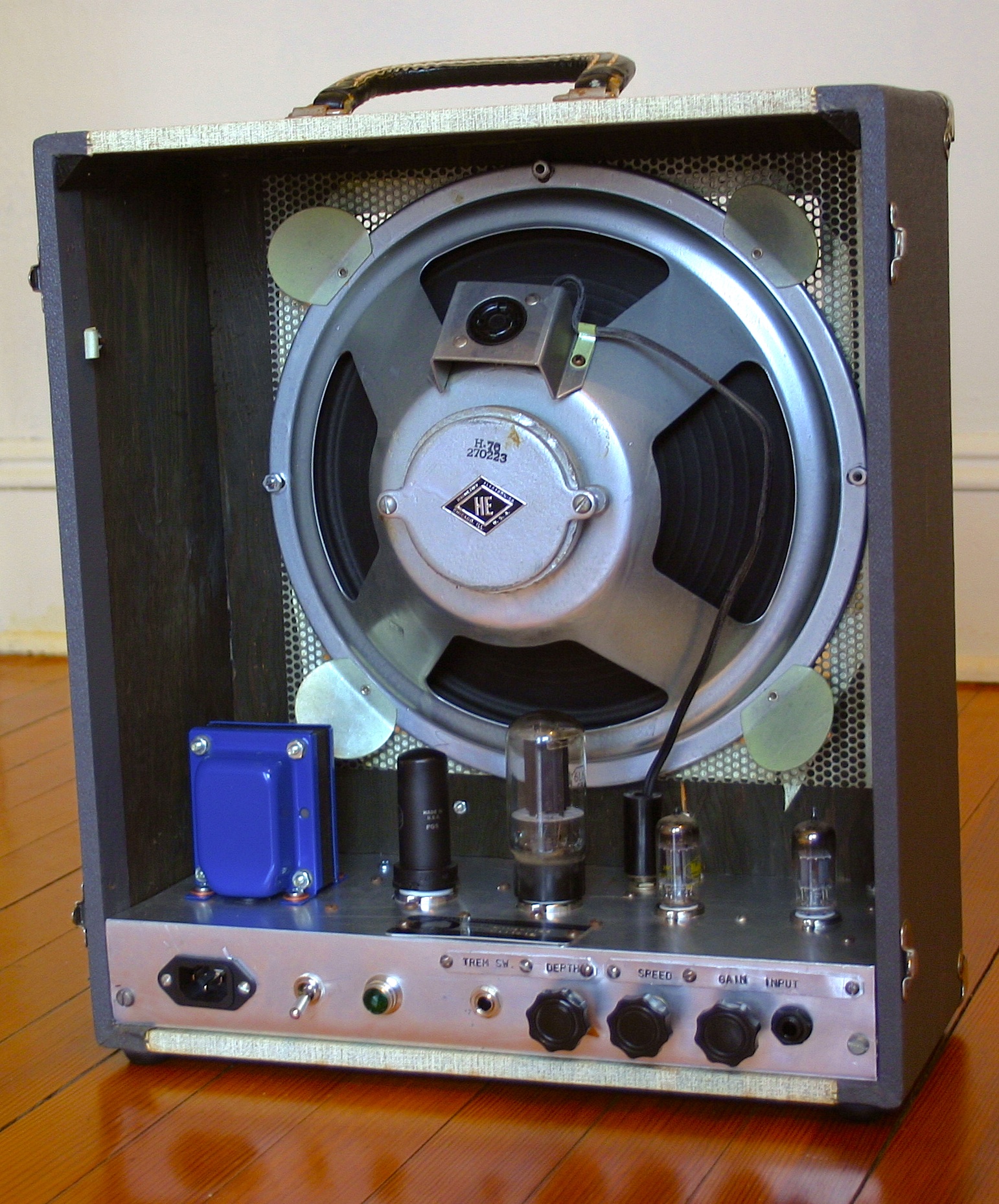 And so was born the King-Vibe.  Similar in principle to a vibro-champ, the King Vibe has more power output (approx. 6 watts, courtesy of its 6L6 rather than 6V6 output section) and waaaaaaaaaaay more gain.  The additional 20db of gain was achieved by eliminating the tone stack.  The aluminum chassis was formed by hand; all wiring is point to point with Sprague and Solen coupling caps.  I used a 6X5 rectifier tube, as the Edcor power transformer has only a 6.3V haeater winding.  Output transformer is also an Edcor.   The speaker is attached via a 1/4″plug at the top of the chassis so that an external cab can be easily connected.  IEC mains socket is provided for convenience and a tidy appearance.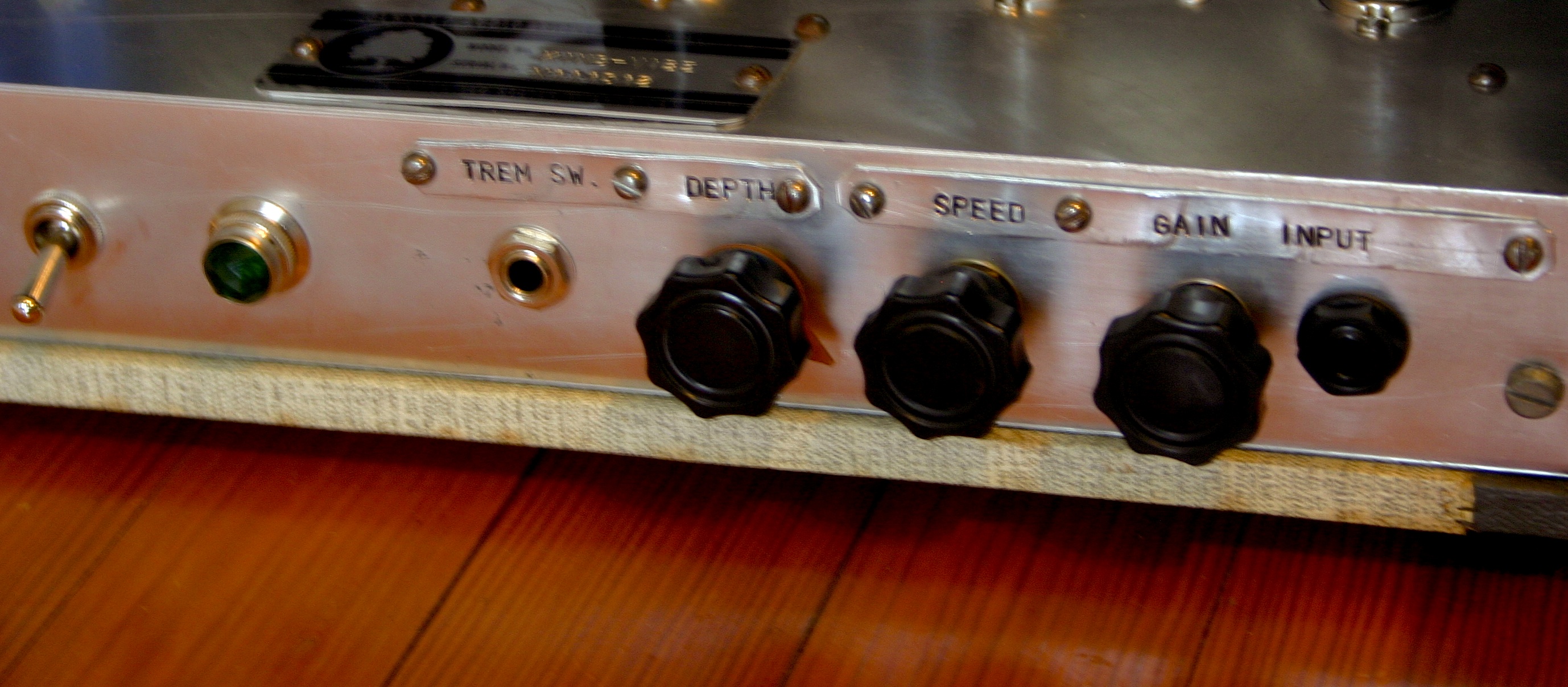 The tremolo is still fully variable and there is a lone Gain control, no bass+treble knobs.  Whatever minor inconvenience this presents is more than justified by the insane amounts of distortion and fuzz that this thing is capable of.  And like the early Tweed Champs (which have the same topology), it cleans up perfectly by simply backing off of the gtrs volume control.  The 6L6 sees a little over 250V on its plate, which is the low end of the 'textbook' operating curve of that tube.  This allows the amp to break up into smooth power-stage distortion relatively quickly, which is kinda the point of these small amps anyhow.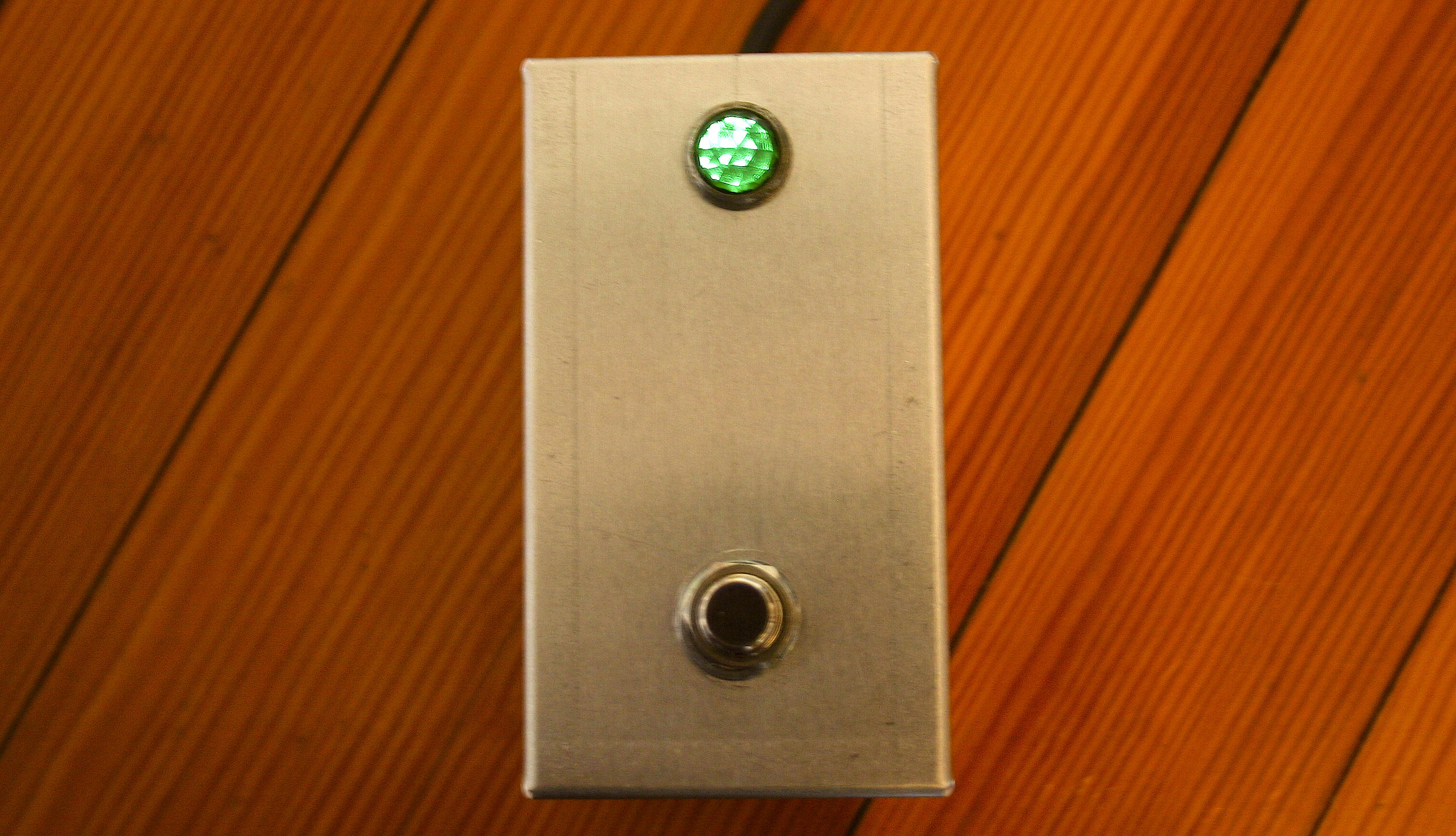 A detachable footswitch with a handy status-indicator jewel lamp completes this package.
This lil monster will be on sale at Main Drag music in Brooklyn whenever I get around to driving down there.