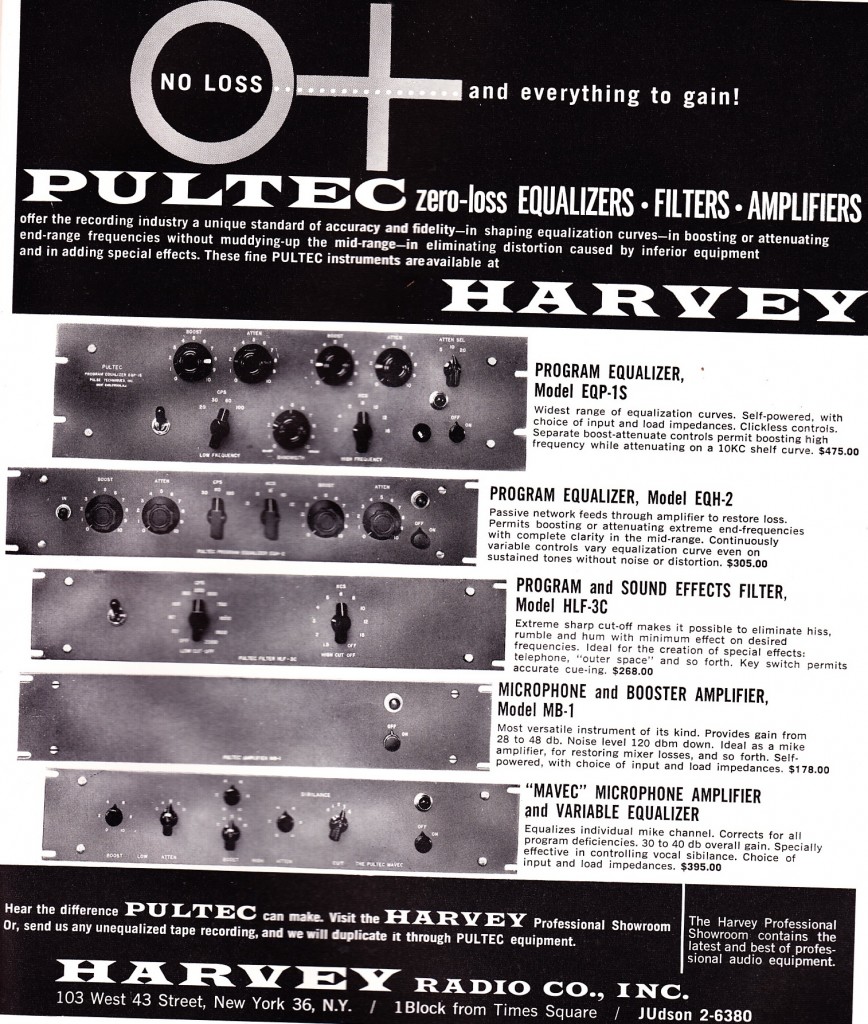 The Pultec range of 1961: the Pultec EQP-1S program equalizer, EQH-2 program equalizer, HLF-3C high and low pass filter set, MB-1 mic and booster amp, and Mavec micpre/EQ unit.
Pultec equalizers have enjoyed fifty-plus years of popularity among recording professionals.  Much like the first several compressors released by Universal Audio/UREI, they have never really gone out of style.  And if vintage Pultecs seem expensive these days (and they no doubt are…), remember that there is an inflation factor of 11x from 1961 to 2012.  So the value of these pieces has more or less simply risen with inflation.
Download catalog data on the EQP 1, shown above: Pultec_EQP-1
Download catalog data on the EQH 2, shown above: Pultec_EQH
Download catalog data on the HLF, shown above: Pultec_HLF-3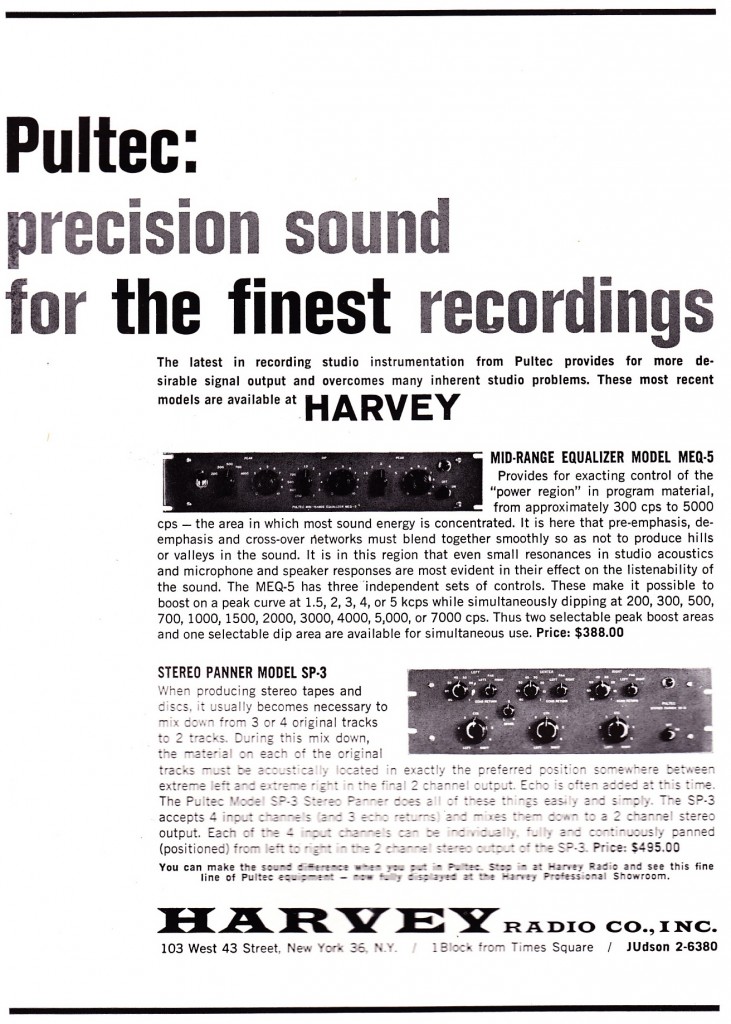 The Pultec MEQ-5 and SP-3 Stereo Panner of 1962.  As unlikely as it might seem, the 'pan' knob was, at one time, a new and novel concept. 
*************
*******
***
*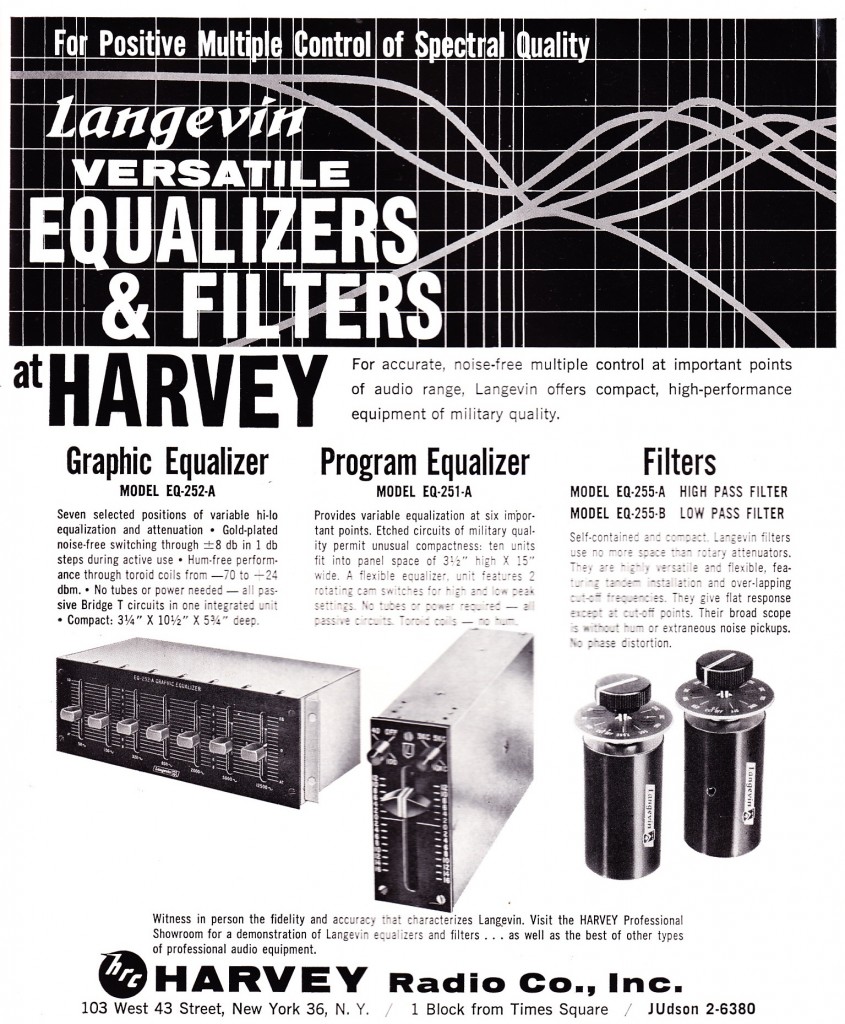 Ok so these are not outboard so much as inboard but you get the connection.  The Langevin EQ-252A, EQ-251-A, and EQ-255 filters of 1961.

********
***
*

Above: the Universal Audio 175B limiter is announced.  The 175B is quite similar in operational principle to the Altec 436/8 and the Gates Sta-Level but the UA is far more sophisticated.  Just a really smartly designed piece of AFAIK, it was sold like shown, with no top cover.   gear.  Retro Instruments currently makes a reissue of this classic piece (but with a top cover).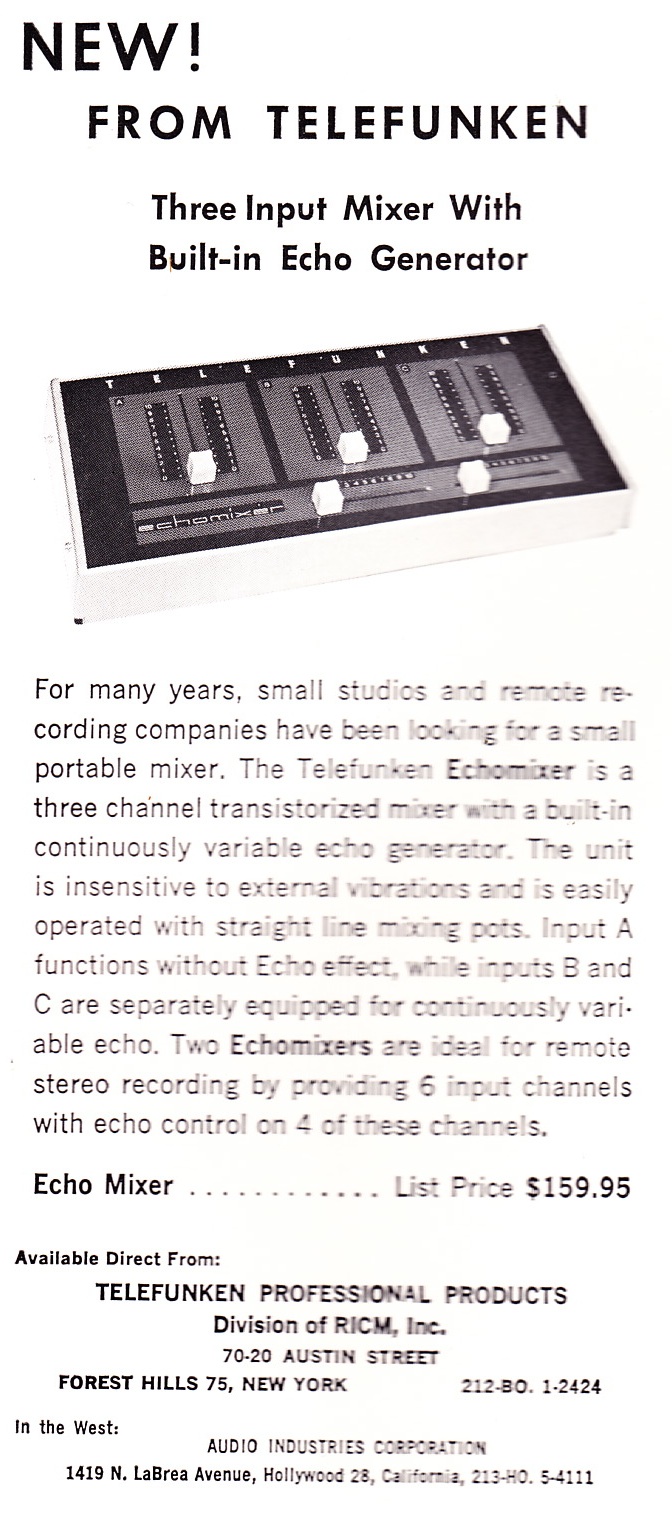 Above: an inexpensive studio echo unit of the early 1960s: the Telefunken Echo Mixer. It is a spring-reverb unit.  Click this link for an audio demo.   Apparently used by Klaus Schulze on his "Irrlicht," which is one of my favorite records.