one of the most famous electric instrument amplifiers of all time is the tweed-covered Champ amplifier made by Fender in the 1950's thru early 1960s.  Here's a image of one from 1959 that i pulled off the web: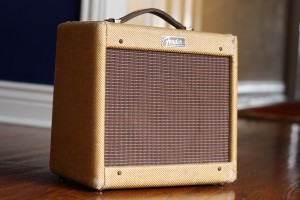 Fender made true vacuum-tube champs until the late 1970s, but the tweed-covered Champ (and it's close cousin the tweed-covered Princeton) differ from their later namesakes in a lot of ways.  In the case of the final Tweed Champs, the lack of bass and treble controls  means that there is roughly 20db more gain available vs the later Black Tolex-covered Champ.  This does not necessarily make for a louder amp.  This does, however, make for an amp that can get super distorted and generally Sound Like Awesome.
Tweed Champs cost a fortune to buy.  Eric Clapton apparently used one for the Derek And The Dominos record.  This fact became widely known, and they have been very expensive ever since.  Fender now even makes a 're-issue' (never a good idea) that sells for close to $1000.
The schematic is posted above for anyone interested in checking it out. They are very very simple.   Anyhow, since these things do sound so great and they are so simple to build, it's a lot of fun to build them into Any Old Thing that catches your eye.  Here's a quick survey of some Champs and Princetons that i've built into found enclosures.  You'll see recycled Intercom units, school PA system speakers, and 16mm film projector speakers.  The circuits in these are all new, built with new or lightly used parts; but the cabinets (that part you actually SEE and touch) are straight up ancient.  I generally take plenty of liberties with the circuit, changing parts, adding features (reverb, add'l gain control, EQ, etc), even building them using different (but similar) tubes, and i've yet to be disappointed.