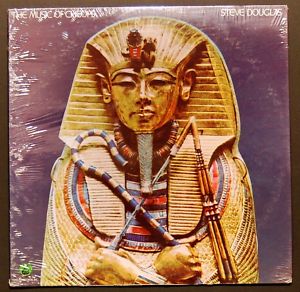 Steve Douglas was a studio session saxophone player who performed on countless hits of the 60s and 70s.  Allmusic.com has a write-up and credit list for Douglas if yr curious.   In the mid-seventies, Douglas apparently went to Egypt and got permission to record some improvised music in the Kings Chamber of the Great Pyramid of Cheops.  Here's an example:
According to the liner notes, the whole thing was taped live by his buddy to 2-track Nagra tape deck (a Nagra is a high-end Swiss-made tape recorder which was generally used on film and television shoots in the era before DAT tape decks).  I am not sure how to explain the polyphony (IE multiple notes occurring at the same time), but it's possible that Douglas was playing two saxes at once, a trick i have seen myself many times.
From what i can gather, this was originally a private press LP that was soon picked up by Takoma, the avant-garde/folk label.
This recording really illustrates how much information there is in simply hearing the sound of a room.  How much can be added to a recording by putting the performer in the right space.  The room sound of the chamber is the real content of this album.  Douglas brings this point home by including some brief 'street noise/Cairo' bits on the record; it lets us know that we are in for a largely sonic (as opposed to largely musical) experience.  I was in Cairo recently and it is a very visceral place.  noisy, crowded, smoky, strong smells everywhere- it's overwhelming.  Even the pyramid park is stressful.  Cops with machine guns circle and extort money from tourists (yes for real).  In contrast to all of this is the inner quiet of the pyramid chambers.  Silence, darkness, no motion.  Check out this clip where we hear a percussive piece that seems to be wholly constructed from the valve and pad noises of the saxophone.
Douglas was not a really a jazz musician (although there are certainly 'jazzy' passages and scales on the record), and i think that's part of why i like this album so much.   Jazz musicians tend to focus their energy on certain kinds of expression:  usually personal 'emotional' expression, or some expression of their thoughts on jazz idioms and jazz form.  CHEOPS, though, is an audio expression of the physicality of an incredible place.  It is really just about the sound, and it's beautiful.  I transferred this album from LP.  It's available on Amazon (with a really terrible new cover), and if you like Eno, Budd, etc., i think you will dig this.
http://www.amazon.com/Music-Cheops-Steve-Douglas/dp/B00020EXME
Does anyone know anything else about this record?  What sound effect units he is using?
Any similar records out there to hear?